Home
WITNESS: STATE SECURITY HAD 200 'LIVE SOURCES' IN KLA
Zoran Stijovic explains methods the Serbian State Security Service used to get information from Albanian sources in Kosovo – money, political ambitions and blackmail. 'Immoral behavior is a great way to put people in a situation where they will act the way you want them to', prosecution witness says at the trial of former KLA commanders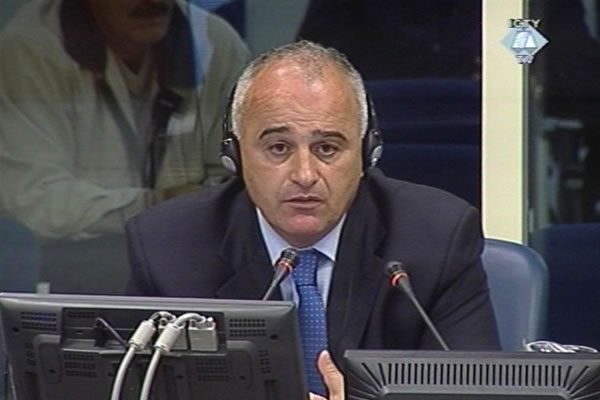 Zoran Stijovic, witness at the Slobodan Milosevic trial
Through testimony of Zoran Stijovic, former chief of the analysis section in the Serbian State Security Service, the prosecution is trying to prove that the Service used valid methods to obtain information from Albanian sources in Kosovo. The prosecution wants to give greater credence to the evidence of former Security Service operatives who had testified that they had discovered the bodies in the Radonjic lake canal on the basis of the information received from the Albanians arrested on 7 September 1998.
At the trial of Ramush Haradinaj, Lahi Brahimaj and Idriz Balaj, Stijovic said that the Security Service had had about 200 'live sources' in the Kosovo Liberation Army (KLA), including the top echelons of the organization. The information was obtained from 'associates, operational contacts or interviews with citizens'. It was classified as 'reliable, partially reliable or unreliable'. Every piece of information, Stijovic explained, was verified using various methods, including visual and audio surveillance and collating the information received with the reports in Albanian media.
The degree of the reliability of the information depended on the source and 'motivation' the person had to share it with the Service. The motives varied, Stijovic explained: some people sold information for money, the amounts ranging from a few thousand to tens of thousands of German Marks. Others did not agree with the Albanian policies in Kosovo. There were those, the witness admitted, who were blackmailed into collaborating.
The Albanian society is 'extremely patriarchal', Stijovic explained, and immoral behavior is not tolerated. The Service thus gather information about 'adultery, alcohol consumption or criminal activities' on the part of potential collaborators, because, as Stijovic remarked, 'immoral behavior is a great way to put people in a situation where they will act the way you want them to'. They never 'projected situations and helped people to act immorally,' he added. 'People would be compromised and we exploited that', Stijovic said. His testimony will continue on Monday.