Home
"KLA INSIDER" TESTIFIES AT RAMUSH HARADINAJ TRIAL
Bislim Zyrapi, former KLA Chief of Main Staff, claims that Ramush Haradinaj was the commander of the Dukagjin Operative zone in July 1998, although he qualifies his claim by saying that this was a time when "comprehensive and coherent" military structure was being set up in the KLA. The second accused Idriz Balaj commanded a rapid response unit which was also under Haradinaj's command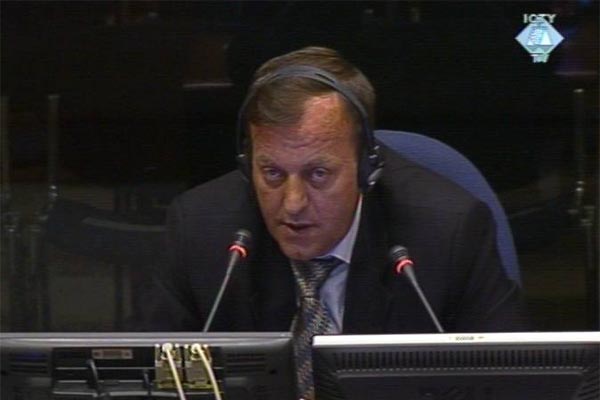 Bislim Zyrapi, witness in the Haradinaj, Balaj and Brahimaj trial
Bislim Zyrapi, former KLA Chief of Main Staff, described the events prior to his visit to the KLA Dukagjin Operative Zone in Glodjane in mid-July 1998. He had been told in the KLA Main Staff that Ramush Haradinaj was the commander of the Dukagjin Operative Zone, he said.
The witness arrived in Kosovo in late May 1998. His goal was to assist in the creation of a "comprehensive and coherent military structure" in the KLA and in the establishment of a unified command headed by the Main Staff. Until then, there had been only commands at the level of smaller towns or villages. When he visited Glodjane in July 1998, the witness claimed, Ramush Haradinaj was the commander of the Dukagjin Operative Zone. One element that indicated that was the fact was that Haradinaj provided him with his military escort when he visited the KLA positions in neighboring villages.
Zyrapi toured the units in the villages of Rznic, Saptej and Prilep. This is where the Rapid Response Unit was deployed. It was under the command of Idriz Balaj a/k/a Toger - "lieutenant". He and his soldiers had "black uniforms and bit better weapons" and were, according to the witness, also under the command of Ramush Haradinaj. Haradinaj introduced Zyrapi to Balaj. The indictment calls Balaj's unit the "Black Eagles".
Describing the role of the third accused, Lahi Brahimaj, Zyrapi said that he was the deputy commander of the Dukagjin Operative Zone and a member of the KLA Main Staff. During his visit, Brahimaj relayed to him the orders arriving from the Main Staff.
In November 1998, Bislim Zyrapi was appointed the KLA Chief of Main Staff and remained in the post until April 1999. One of the reasons he was appointed was his previous military experience: he had served first in the JNA, and then from 1992 to 1994 in the BH Army.
Bislim Zyrapi will continue his evidence tomorrow.