Home
CERMAK WILL BE PROVISIONALLY RELEASED AGAIN TOMORROW
The Trial Chamber took into account Cermak's admission he had done wrong and his claim that it had not been his intention to treat the ICTY with disrespect. The Chamber decided to grant him provisional release pending trial. The accused was cautioned that any violations of the terms of his provisional release would lead to its immediate revocation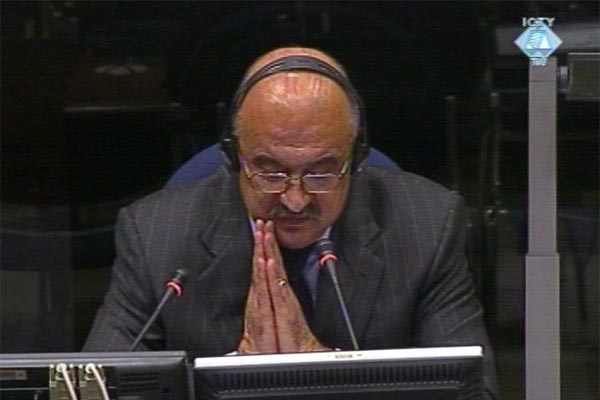 Ivan Cermak in the courtroom
Although the Trial Chamber found that Ivan Cermak "on at least four occasions knowingly violated the terms of his provisional release", it decided to revalidate the decision from 2 December 2004, granting provisional release to the accused pending trial. The decision was revoked on 8 February 2007, after the Croatian media published reports and photographs of Cermak's trips to places where he was not supposed to be according to the terms of his provisional release.
In answer to Judge Orie's questions last Friday Cermak did not deny that he had attended a birthday party, the New Year's Party and a ski race in late December 2006 and early January 2007. He had attended the same ski event last year. The Chamber decided to grant him provisional release again, in light of Cermak's voluntary surrender, his "full cooperation with the Tribunal and the OTP", his regular contacts with the police while he was on provisional release, his immediate return to The Hague when he was ordered to do so and his statement that it had not been his intention to treat the ICTY with disrespect.
In the decision rendered today, Cermak is warned that any new violations will lead to immediate suspension of his provisional release. The terms remain the same but today's decision specifies that the obligation of remain "in the place of residence" refers to his house and his estate in Krapinske Toplice. He is allowed to leave the estate between 7 am and 7 pm on working days, but only to go to his company headquarters in Zagreb or to the nearest police station. Cermak must take "the shortest route possible (in kilometers regardless of the rush hour)". The Chamber had obviously thought it appropriate to specify this, since his trip to Sljeme on 4 January 2007 was justified by the Croatian Government in its response to the ICTY as "a detour taken to avoid a traffic jam".
The decision to provisionally release Ivan Cermak enters into force on Friday, 16 February 2007.