Home
DISTURBING MASSACRE PHOTOS
Most of the 44 photos taken after the Markale 2 massacre on 28 August 1995 are so "disturbing" that they were not shown in court. Sead Besic, a crime scene technician with the BH Interior Ministry claims that 70 persons got killed in the incident. Dragomir Milosevic's defense counsel maintains that a "few people were injured" and that the rest of the bodies were "planted", as he said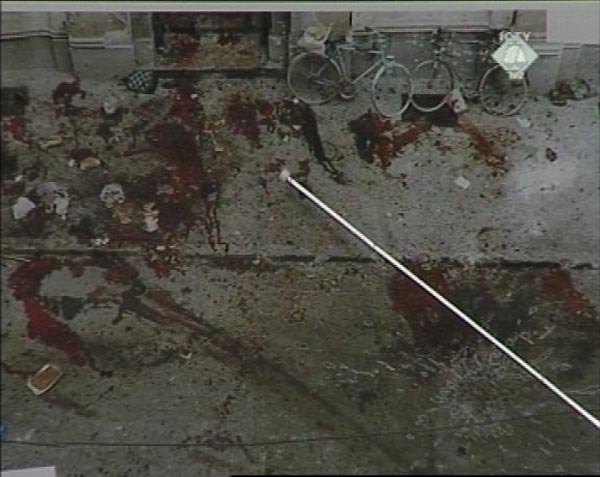 Photograph taken at the Markale market after the massacre on August 28th 1995
Sead Besic, a crime scene technician with the BH Interior Ministry took the stand today at the trial of General Dragomir Milosevic. The prosecution tendered into evidence 44 photos taken after a mortar shell exploded at the Markale town market on 28 August 1995. Besic was at the crime scene as a member of the on-site investigation team. He was in charge of taking photos, making a sketch of the crime scene and a video recording and collecting physical evidence of the massacre.
The prosecutor said some of the photos were "very disturbing" and they were not shown at the trial of General Dragomir Milosevic, who is charged with the shelling of Sarajevo. One of the photos that were displayed is a kind of a photo mount showing a panoramic picture of the place where the shell exploded. The crater at the impact site is visible as is the damage to the buildings around it, and body parts – mostly lower extremities of the people that happened to be at the entrance to the town market. According to the indictment, the shell killed 43 and injured 75 persons. The witness claims it was fired from the south. As alleged in the indictment, those positions were under the VRS control.
The witness believes that more people were actually killed in the incident. Thirty-five persons died at the scene, and about 30 more died later in hospital, the witness said. In his cross-examination, Branislav Tapuskovic, defending the accused general, contested the witness's claims saying that "a single shell usually cannot kill more than ten persons…unless they were all together in one barrel".
The defense counsel stuck by the theory he presented yesterday, claiming that the bodies of the massacre victims had been "planted" at the crime scene. Offering no evidence whatsoever to support his claims, he said that the bodies had been brought in from the morgue and placed in front of the market entrance. They were then "quickly taken away so that the time of death could not be determined".
After Besic, the prosecution called John Jordan. Former US marine was the head of the UN firefighting service in Sarajevo for almost three years. He arrived in Sarajevo in November 1992 with the non-governmental organization GOFRS (Global Operations Fire Rescue Services). In May 1993, it was put under the United Nations umbrella.
John Jordan's testimony continues tomorrow.