Home
HARADINAJ TRIAL TO BEGIN SOON
The Trial Chamber that will try the three former KLA commanders should be appointed next week. The parties will file their pre-trial briefs by the end of the month. This means that the preparations for the trial are now in their final stage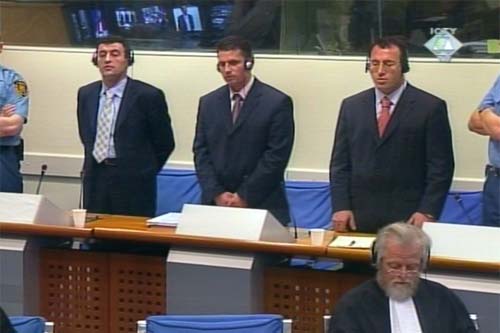 Brahimaj, Balaj and Haradinaj (from left to right) in the courtroom
Preparations for the trial of former KLA commanders Ramush Haradinaj, Idriz Balaj and Lahi Brahimaj have entered the final stage and the trial should begin soon, pre-trial judge O-Gon Kwon announced today. As he said, today's status conference may well be the last one for him, because the Trial Chamber to hear the case will probably be appointed next week.
The order of the Chamber for the parties to file their pre-trial briefs by 25 January is yet another sign that the start of the trial is near. The process might be slowed down by problems with witnesses that both the prosecution and defense have encountered.
The pre-trial chamber has accepted the second amended indictment filed by the prosecution last November. As the prosecutors announced, it has been "consolidated and refined", but not condensed. It still contains 37 counts. Haradinaj, Balaj and Brahimaj are charged with "intimidation, abductions, detention, beatings, torture and murders" of Serbian civilians, and Albanians and Roma suspected of collaborating with the Serbian authorities. According to the indictment, those crimes were committed between March and September 1998, in order to establish and reinforce "complete control of the KLA over the Dukagjin operational zone".
At the previous status conference last October, it was indicated that this trial should begin in late February or early March 2007.