Home
HARADINAJ CASE TO BE HEARD BY SESELJ'S TRIAL CHAMBER
As Vojislav Seselj's trial is not about to start any time soon, the Trial Chamber with Judge Alphons Orie as its president will begin the trial of three former KLA commanders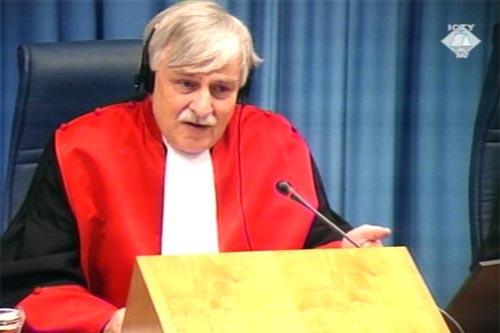 Alphons Orie, judge in the Tribunal
Dutch judge Alphons Orie will be the presiding judge in the Chamber hearing the case against three former KLA commanders: Ramush Haradinaj, Idriz Balaj and Lahi Brahimaj. The other two judges in the Trial Chamber are Ole Bjorn Stole from Norway and Frank Hoepfel from Austria.
The Chamber that was supposed to try Vojislav Seselj will thus take on a new case, after the Seselj trial had first begun, only to re-start and finally to be adjourned indefinitely until the accused is ready to proceed to the trial.
The exact date on which the trial of the three former KLA commanders will begin has not yet been set. It was told at the last status conference that it would begin "soon".
Haradinaj, Balaj and Brahimaj are charged with the "intimidation, kidnaping, detention, beating, torture and killing" of Serbian civilians and of Albanians and Roma suspected of collaborating with the Serbian authorities. Those crimes, as alleged in the indictment, were committed in the period between March and September 1998 with the aim of achieving and reinforcing the "total KLA control over the Dukagjin operational zone".