Home
LAHI BRAHIMAJ TO REMAIN IN DETENTION
Finding that the accused failed to provide persuasive evidence he would return to The Hague for trial and would not pose a danger to the victims and witnesses in the "unstable situation" in Kosovo, the Trial Chamber rejected his motion for provisional release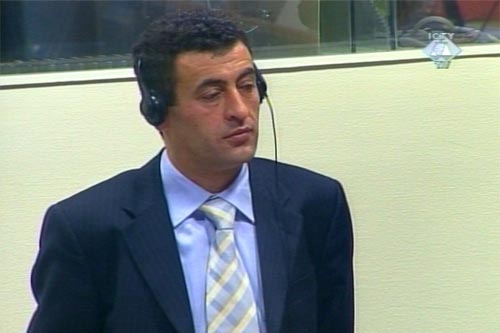 Lahi Brahimaj in the courtroom
The Trial Chamber rejected the motion filed by the accused Lahi Brahimaj for provisional release pending trial. Together with two other former KLA members, Ramush Haradinaj and Idriz Balaj, Brahimaj is charged with the crimes against the Serbian and Albanian civilians committed in 1998 in the area of Pec, Decani and Djakovica in Kosovo.
Brahimaj moved for provisional release under the same terms as Haradinaj, his close relatives. Both he and UNMIK offered guarantees that he would return to The Hague for trial and would not pose a danger to the victims and witnesses. The prosecution opposed the motion, noting that the situation in Kosovo remained "extremely dangerous" for witnesses. The prosecution says two potential witnesses claim they have received threats made on behalf of Brahimaj.
Although the Chamber considers "a general fear of intimidation and threatening of witnesses" cannot in itself constitute a ground for denying provisional release, it nevertheless finds that given the "volatile situation" in Kosovo, circumstances in which such incidents may occur really do exist there. In such a situation, the Chamber finds, the claims about attempts to intimidate two potential witnesses cannot be discounted, although they remain unsubstantiated.
Concluding that Brahimaj failed to give persuasive evidence he would return to The Hague for trial and would not pose a danger to the victims and witnesses while in Kosovo, the Trial Chamber rejected his motion.
The indictment alleges Lahi Brahimaj was the deputy commander of the Operational Command in the Dukagjin area, and that he commanded a KLA camp in Jablanica, where he "ordered, supervised and participated in the beating, torture and murder of detained persons." The indictment goes on to allege that Brahimaj personally abducted a person, taking that person first to the Jablanica camp and then to a "potential execution" site.