Home
HARADINAJ TRIAL TO BEGIN ON 5 MARCH 2007
The Trial Chamber with Judge Orie presiding set the date for the start of the trial of the three former KLA members. The pre-trial conference will be held on 1 March and Haradinaj, Balaj and Brahimaj will re-enter their pleas on the 21 counts of the "operative indictment"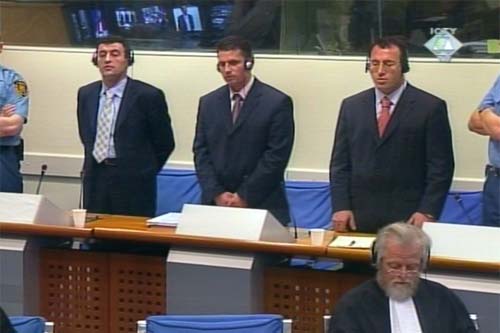 Brahimaj, Balaj and Haradinaj (from left to right) in the courtroom
The trial of Ramush Haradinaj, Idriz Balaj and Lahi Brahimaj will begin on Monday, 5 March 2007, it was stated at the Tribunal today. The former KLA commanders will be tried by the Trial Chamber composed of Dutch judge Alphons Orie, presiding, and two ad litem judges: Ole Bjorn Stole of Norway and Frank Hoepfel of Austria.
The pre-trial conference has been scheduled for 1 March. The three accused will re-enter their pleas on the 21 counts of the "revised second amended indictment" accepted by the Chamber as the "operative indictment" in this case.
Ramush Haradinaj, Idriz Balaj and Rahim Brahimaj are charged with "intimidation, kidnapping, detention, beating, torture and murder" of Serb civilians and Albanians and Romas suspected of collaboration with the Serb authorities. According to the indictment, those crimes were committed between March and September 1998 in order to establish and reinforce "the total control of the KLA over the Dukagjin operational zone".
The Trial Chamber's scheduling order did not specify the date when Ramush Haradinaj – who has been provisionally released – would have to return to the UN Detention Unit in The Hague.