Home
HARADINAJ "ON ICE" UNTIL 21 NOVEMBER
After the Appeals Chamber ordered it to reconsider its decision on Friday, Trial Chamber II decided to extend the time period for the stay of the decision on Ramush Haradinaj's political involvement. The execution of the decision was stayed until 21 November or the end of the appellate proceedings initiated by the prosecution – the proceedings may end before 21 November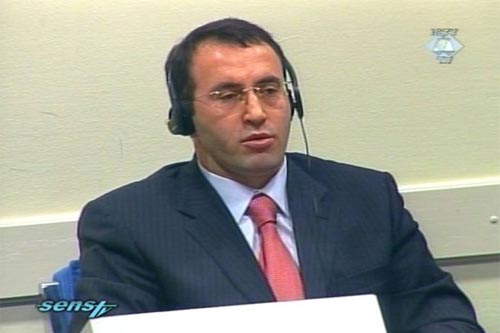 Ramush Haradinaj in the courtroom
The execution of the Trial Chamber's decision allowing the accused Ramush Haradinaj limited involvement in Kosovo political life was stayed until 21 November or "until the date on which the Appeals Chamber renders its decision, whichever is earlier".
This is the gist of the decision the Trial Chamber II rendered today. This chamber is hearing Haradinaj's case. On 12 October, it issued its controversial decision to allow the accused to resume limited political activity under UNMIK control. The prosecution was "scandalized" by the decision. It appealed the decision and called for the execution to be stayed until the Appeals Chamber has rendered its final decision. The Trial Chamber put a temporary stay on the execution of its own decision and then tried to have the Appeals Chamber rule on the prosecution motion, noting that it was in "a better situation to evaluate how long the appellate proceedings may last". Last Friday, the Appeals Chamber decided that ball was not in its court, noting that the prosecution motion was not submitted to it but to the Trial Chamber, and that it should decide whether to stay the contested decision or not.
Judges Agius, from Malta, Braydensholt from Denmark and Eser from Germany had no way out: today they ruled to extend the stay of the execution of the decision until 21 November or the end of the appellate proceedings, as the prosecution demanded.