Home
DOG FOOD FOR CAMP INMATES AT HELIODROM
Prosecution witness claims she and her family were fed dog food in the Heliodrom camp, where they were taken from Western Mostar by the HVO. The accused Slobodan Praljak believes that this could only have been food from humanitarian relief supplies because, as he says, dog food was "not made" in the former Yugoslavia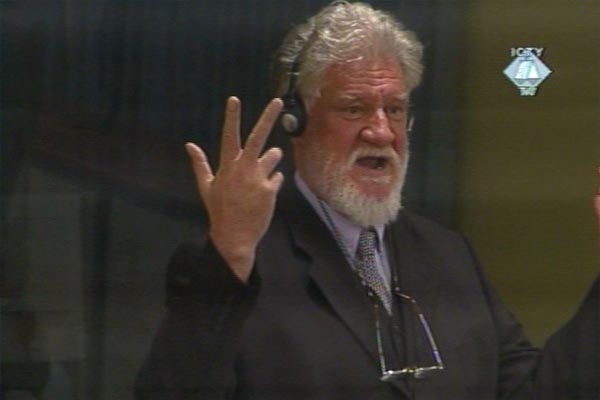 Slobodan Praljak in the courtroom
At the trial of six former Herceg Bosna leaders, a prosecution witness testifying under the pseudonym CT claims that the inmates in the Heliodrom camp were fed dog food.
When Judge Trechsel asked her to explain how she could be sure this was indeed dog food, the witness said her husband, also detained in Helidrom, had brought a few such cans home after his release. "We've had dogs for years," she went on to say, "and I'm quite familiar with the smell of the food".
The accused Slobodan Praljak wanted to know if the witness had seen the images of "a dog's or a cat's head" on the cans. When she said there had been "a dog's head" on the cans, Praljak said he simply could not believe it. In his opinion, this could only have been food from humanitarian relief supplies, because dog food was "not made" in the former Yugoslavia.
On 9 May 1993, the witness was evicted from her apartment in Western Mostar together with her husband and two children. They were all taken to the camp. She claims that International Red Cross representatives were not allowed access to the prisoners.
The witness said that she had been beaten by an HVO soldier at the time of her arrest. She went on to say that the HVO soldiers had fired a Zolja missile on her home. Her children were still in there at the time. The house was looted and partly burned down during their detention in Heliodrom. After their release from the camp in late May 1993, the witness fled to Eastern Mostar together with her husband.
The trial of the six former Herceg Bosna leaders will continue on Monday.