Home
PRALJAK'S "BEARABLE MISFORTUNE"
The conflicts that took place between the Croatian Defense Council (HVO) and BH Army by the end of April 1993 could be considered a "bearable misfortune of war conditions" had a political solution for Bosnia-Herzegovina been found by that date, the accused Slobodan Praljak says during a cross examination of the protected prosecution witness from Stolac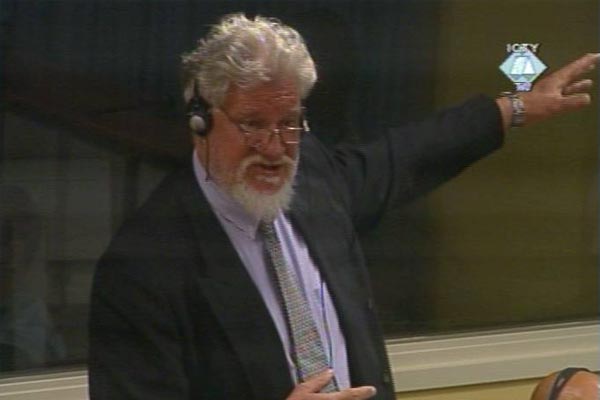 Slobodan Praljak examining a witness
If, by any chance, a political solution for Bosnia-Herzegovina had been found by the end of April 1993, occasional conflicts between the HVO and BH Army could be considered to have been a "bearable misfortune of war conditions", the accused Slobodan Praljak believes. General Praljak presented such a view during a cross examination of the protected witness for the prosecution whose main testimony in the trial of the six former Herceg Bosna leaders had been given in sessions mostly closed to the public.
The witness said it was "possible" to look at it that way and that he had personally exerted himself to await a political solution at higher levels. At the time, he said, the predominant feeling in the Muslim circles was that a solution for BH could be found without resorting to military force.
In the main testimony the witness had spoken about the events at Stolac during a period prior to and during the HVO-BH Army conflicts. He had been politically active in that period as one of the SDA officials in the town, and had been held in an HVO detention camp for a while. On the first day of his testimony he confirmed the presence of the Croatian Army in Stolac as well.
The presence of an army of the neighboring country in that area, according to General Praljak, enabled an agreement on friendship and cooperation between BH and Croatia that was signed by Alija Izetbegović and Franjo Tuđman in Zagreb on 21 July, 1992. This agreement protected the BH independence and territorial integrity and treated the HVO as part of BH armed forces, while also binding the two countries to cooperate and coordinate their moves in border areas. Therefore, Praljak believes that the HVO had the right to coordinate its actions with the Croatian Army. The witness responded that the issue was not disputable at all, but that the events that occured during the conflicts in which, as he said, the Croatian Army had taken part were.
Defense counsel for the accused Milivoj Petković, Vesna Alaburić, claimed that a decision to "isolate" Muslims in Herzegovina who were able for military service had been a reaction to a betrayal by the Muslims in the HVO ranks, as well as to the storming of the "Tihomir Mišić" barracks and conquest of the Bijelo Polje area near Mostar by BH Army members. The witness denied having any knowledge of this.
The trial continues tomorrow with the testimony of a new prosecution witness who, we find, will also be testifying about the events in the Stolac area.