Home
TRIAL OF FORMER HERCEG BOSNA LEADERS CONTINUES
As the trial of the six former Herceg Bosna leaders continues, a new protected witness testifies about the events in Stolac at the beginning of the BH Army-HVO conflict. Presiding Judge Antonetti wishes everyone "good health" and a "calm approach to the trial" in the new year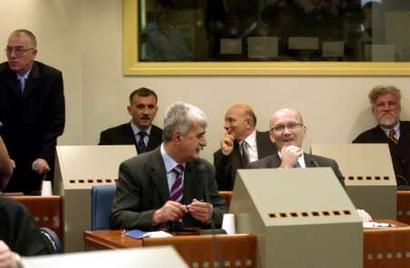 Jadranko Prlic and Bruno Stojic in the front row and Slobodan Praljak, Milivoj Petkovic, Valentin Coric and Berislav Pusic in the back row
After three weeks of winter recess, the trial of the former Herceg Bosna leaders continued with the evidence of a new prosecution witness. He says that after the JNA left Stolac in June 1993, there were Croatian Army (HV) troops there, in addition to the HVO and HOS. They belonged to the HV 116th Brigade, headquartered in Metkovic, he claims.
While testifying in open session, the witness said he had had a feeling the HVO and HV forces had acted in concert in the operation to liberate Stolac in June 1993. He did stress, however, that he knew little about the higher levels of the chain of command.
Presiding Judge Jean-Claude Antonetti indicated that Judge Antoine Kesia-Mbe Mindua, now in the Chamber hearing the case against the six Croats from BH, would in the future sit on the trial of Dragomir Milosevic, charged with the shelling of Sarajevo and a sniping campaign against the civilians there between August 1994 and the end of the war in BH.
Presiding Judge Antonetti wished everyone "good health" in the new year, noting that as the trial continues all parties had to adopt "a calm approach" because calm was what everyone needed.
The trial continues tomorrow.