Home
MILOSEVIC ILL
After the accused failed to appear in courtroom this morning, the prosecutor expressed his concern that "the issue of the ill health of the accused may be an integral part of the overall defense strategy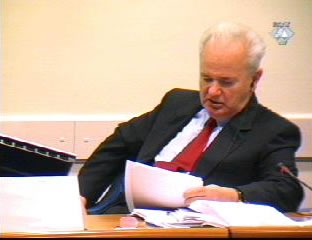 Slobodan Miloševic during the cross examination
After Milosevic failed to appear in courtroom this morning because of illness, prosecutor Geoffrey Nice expressed his concern because of "certain amount of publicity given to the comments made by the accused legal advisor about his alleged state of health, which will inevitable affect the course of the trial".
Nice gives two possible causes for concern: "either because the comments reflect the medical condition of the accused or because they reflect something else". In Nice's view, the latter is "possible integration of ill health issues with an overall defense strategy".
The prosecutor brought to the judges' attention an article published in Belgrade daily Politika yesterday. Quoting a statement by Zlatko Tomanovic, one of the legal counsel of the accused, Politika writes that Milosevic was examined last Friday by "doctors of his choice": a French cardiologist, Russian angiology specialist and a Serbian ear-nose-throat specialist. According to Tomanovic, they have concluded that Milosevic's health is "seriously threatened", that "serious complications" are possible and that he must rest for at least six weeks.
The Trial Chamber ordered the Registry this morning to submit within 14 days a detailed report on the heath of the accused. Judge Robinson adjourned the trial until Tuesday, 15 November, said the trial Chamber "will monitor the situation very, very carefully so as to insure that as little time is lost is possible".