Home
MILOSEVIC RUNS OUT OF TIME
The Trial Chamber orders Milosevic to produce a list of witnesses he intends to call until the end of his case and informs him that his time runs out "sometime in March" next year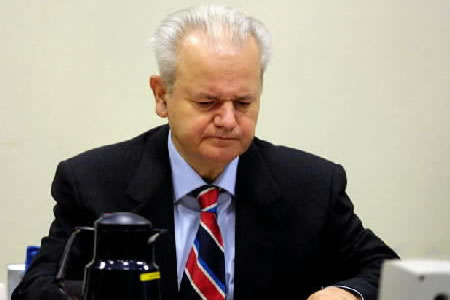 Slobodan Milosevic in the courtroom
The time allotted for Slobodan Milosevic's defense will run out "sometime in March 2006", it is stated in the order of the Trial Chamber made public today. The accused is ordered to produce by 17 October a list of witnesses he intends to call until the end of his case.
According to the latest time-keeping tally, made public last week, Milosevic has 120 hours or 30 working days for the presentation of his case, while the prosecution has a little less than 20 days for the cross-examination. This means that – if the Chamber doesn't allot additional time to Milosevic – the defense case should be completed in about 50 days, slightly more than four months, provided that the trial continues at the present pace, three days a week.
Once the defense case is over, the prosecution case would be reopened regarding the role of the Scorpions in the Srebrenica events. After that Milosevic would be given some time to respond to the new evidence presented by the prosecutor. It is to be expected that all those stages would be completed before the summer recess in late July 2006. The parties would then be given some time to prepare their final briefs and closing arguments, which would probably be scheduled for the fall of 2006. Bearing in mind the scope and complexity of the case and the volume of the evidence, it would be unrealistic to expect the judgment to be delivered before the summer of 2007.
This schedule hangs on Milosevic's resting his case "sometime in March 2006", as the Trial Chamber noted in their order. The problem is that in the first two thirds of his case Milosevic focused almost exclusively on challenging the allegations in the Kosovo indictment, showing no intention of addressing the indictments charging him with crimes against humanity in Croatia and genocide in BH. The Chamber has warned the accused repeatedly that he would not get additional time, but Milosevic apparently gambles on the assumption that the judges would not allow his case to be cut short before he's dealt with the main charges in the Croatia and BH indictments.