Home
NINE INDICTEES IN SREBRENICA MEGA TRIAL
The judges approved the joinder of the six Srebrenica cases. The nine persons indicted for the Srebrenica massacre in July 1995 will be tried together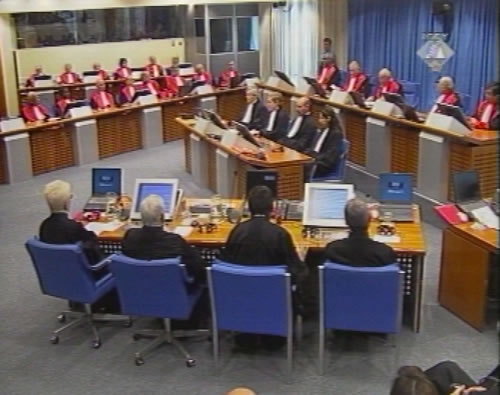 Sudnica Tribunala u Den Haagu
Eight or nine high-ranking Bosnian Serb military and police officers will be in the dock in the third trial for Srebrenica crimes to be held before the ICTY. The prosecution has charged them with genocide, crimes against humanity and violations of laws and customs of war. Only General Zdravko Tolimir is still at large. The other eight are either in the UN Detention Unit or have been provisionally released pending trial.
Judges Robinson, Agius and Daqun, sitting in a special bench, granted the prosecution motion for the joinder of the six cases, in which a total of nine accused face charges of crimes committed in 1995 in the Srebrenica area. Srebrenica was an enclave nominally protected by the UN at the time.
Trying Vujadin Popovic, Ljubisa Beara, Drago Nikolic, Ljubomir Borovcanin, Zdravko Tolimir, Radivoje Miletic, Milan Gvero, Vinko Pandurevic and Milorad Trbic together would "better serve the interests of justice", in the opinion of the judges, because it would promote "judicial economy" and "safeguard the rights and availability of witnesses." The Chamber is also convinced that a joint trial would not "prejudice the accused in any way."
Six of the accused objected to the prosecution motion and it is expected that some of them will appeal against the decision to join the Srebrenica cases.