Home
MILITARY POLICE "WAS ASHAMED BUT HELPLESS"
Former Bosnian Serb military police member testifies about the preparations for mass killing of about 1,000 people in Orahovac on 14 July 1995. "We were ashamed of what was going on," he says, "but couldn't do anything about it."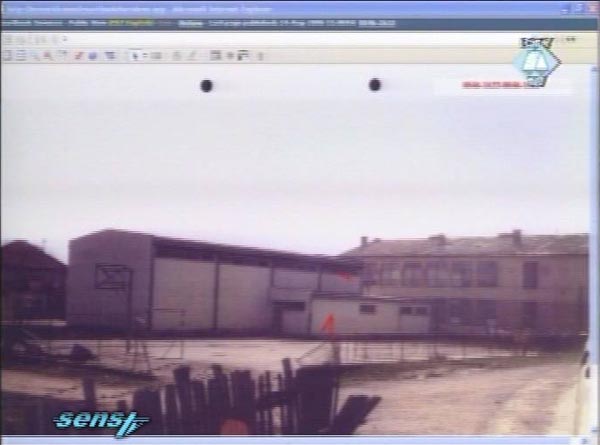 Primary school in Orahovac where about 1000 people were killed
The protected prosecution witness testifying under the pseudonym 142 wasn't present at the mass execution in a field near the primary school in Orahovac. He only heard machine gun bursts from that direction. As a military policeman, he was securing the primary school gym full of people brought in on about ten buses.
The prisoners were taken out of the gym with their hands tied, put on the trucks and taken to the execution site. The procedure was repeated until the gym was empty. The witness says that they were informed about the executions by the soldiers running after the trucks when they returned for more people. "We were ashamed of what was going on," he said, "but we couldn't do anything about it."
While the prisoners were still in the gym the witness saw in Orahovac Drago Nikolic, chief of security in the Zvornik brigade. It is written in the indictment that Nikolic, together with Milorad Trbic, his assistant at the time, "supervised, facilitated and oversaw the Orahovac executions". According to the indictment, Ljubisa Beara, the chief of security in the VRS Chief of Staff, was in charge of the organization of the detention, transportation and summary execution of the prisoners.
The next day the witness was tasked with securing a new group of prisoners held in the primary school in the village of Rocevic. When he came to the school, there were already several dead bodies in the gym. They were taken to the execution site together with the living prisoners. The witness later heard that these men had been killed at the waste dump in Kozluk near Drina.
Ljubisa Beara's defense counsel focused most of his cross-examination on the circumstances under which the witness had given his statement to the OTP and on the fact that it had been given in 2005, ten years after the Orahovica execution. Drago Nikolic's defense counsel pointed to the fact that the witness had not heard what Nikolic had been talking about with the other officers in Orahovac. He asked the witness if he had seen "a leader wearing a red beret" in the gym" but the witness couldn't remember such a man.