Home
JUDGES: "INTERCEPTORS' TESTIMONY HAS MINIMAL VALUE"
The Chamber asks the prosecution and the defense counsel for the seven Bosnian Serb military and police officers charged with crimes in Srebrenica to "speed up the examination" of members of the BH Army audio surveillance service. The evidence they have given so far is "long, often repetitive and of minimal value", the Chamber notes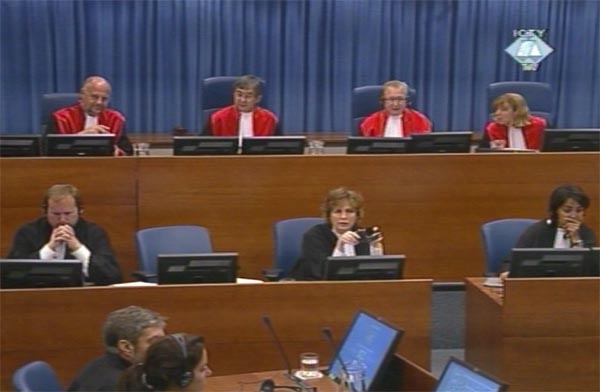 Trial chamber in the case of Vujadin Popovic, Ljubisa Beara, Ljubomir Borovcanin, Drago Nikolic, Vinko Pandurevic, Milan Gvero and Radivoje Miletic
The presiding judge in the Chamber hearing the case against the seven former Bosnian Serb military and police officers charged with crimes in Srebrenica warned the prosecution and the defense that they had spent "a considerable amount of time" to examine members of the BH Army audio surveillance service. Those witnesses monitored radio traffic among VRS officers, recording and transcribing their conversations. Through their testimony, the prosecution is trying to prove the authenticity of the transcripts of intercepted radio and telephone communications it wants to have admitted into evidence.
Judge Carmel Agius invited both parties to find a way to "speed up the examination of the interceptors". Sixteen of them are yet to be called as witnesses, and eight have already taken the stand. The judge did not object to the number of witnesses, but to the contents of their evidence. It was "lengthy and often repetitive", the judge said. To continue examining witnesses in this way, the Chamber believes, would needlessly lengthen the trial because the evidence presented so far, as Judge Agius noted, "is not essential and has minimal value".
Neither the prosecution nor the defense, however, intends to cut short the examination-in-chief and the cross examination of such witnesses. The prosecution believes the intercepts are "important" because they concern "the acts and conduct of the accused" while the defense challenges the authenticity and reliability of the transcripts made of such conversations because they contain too many corrections and amendments.
The Chamber will rule later on the manner in which the members of the BH Army audio surveillance service are to be examined.
In the meantime, the prosecution continues calling evidence on the intercepted conversations of VRS officers recorded by the operators of the BH Army audio surveillance service. Witness P 124 continued his testimony today. Like the previous witnesses, he is testifying with protective measures. He spoke about the procedure used in the interception, recording and writing down the radio and telephone communications. As he explained, the corrections were made to the transcripts because the conversations were sometimes not perfectly audible and the recordings had to be replayed again to be corrected.
The prosecutor is trying to have admitted into evidence through this witness at least two transcripts of the conversations in which the accused Vujadin Popovic and Ljubisa Beara play the main roles, as the prosecutor alleges. The contents of the conversations were not discussed at all. Beara's defense claims there are differences between the conversation as it was first written down and the version that was replayed and typed up later. According to his defense, Beara is mentioned only in the typed version of the text.