Home
'MEJAKIC AND OTHERS' CASE REFERRED TO BH
"The Referral Bench is satisfied that neither the gravity of the alleged offences, nor the level of responsibility of the Accused at the time precludes the referral of this case to the authorities of a nation which meets the requirements". Two trials that dealt exclusively with the crimes in the Omarska and Keraterm camps were already held before the Tribunal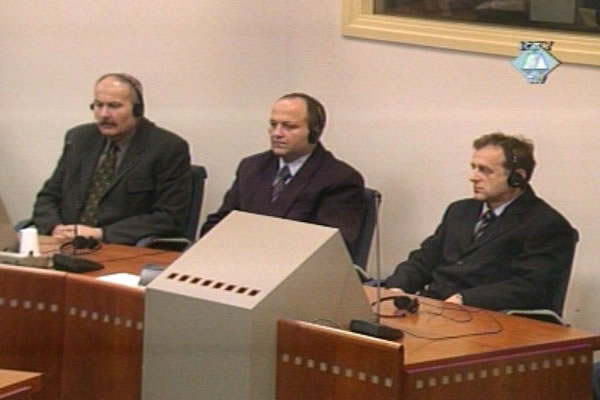 Zeljko Mejakic, Dusan Fustar i Dusan Knezevic in the courtroom
The Mejakic and other case will be referred to a court in Bosnia and Herzegovina, the Referral Bench ruled today. This is a special bench of the ICTY that considers applications of the prosecution to refer cases to national courts.
"The Referral Bench is satisfied that neither the gravity of the alleged offences, nor the level of responsibility of the Accused, at the time precludes the referral of this case to the authorities of a nation which meets the requirements." Judge Alphons Orie said today. Several trials that dealt with the crimes in the Omarska and Keraterm camps have already been held before the Tribunal. The first accused Zeljko Mejakic was, as the prosecutor alleges, the commander of the Omarska Camp at that time, Momcilo Gruban was a guard shift commander at the Omarska Camp and Dusan Fustar at the Keraterm Camp, and Dusko Knezevic held no official position but was able to enter both of those camps when he wished, it is alleged.
The accused wanted their case to be tried at The Hague, and if that option were not accepted, to be tried in Serbia and Montenegro. SCG offered to take on the case on its own initiative. The judges, however, think that the SCG has "limited" links with this case, because the crimes were committed in BH, the victims were BH residents and the accused lived in that country at the time when the crimes were committed in the spring and summer of 1992.
In addition, under the BH law it is possible to try the accused for most of the offences alleged in the OTP indictment, if not all of them, the Bench concluded. The BH laws have been amended to guarantee the standards of a fair trial, including the provisions stipulating that members of parliament from the RS entity participate in the election of the judges to the chambers of the State Court. The concerns the defense expressed about whether the accused would be given a fair trial in BH were judged to be unfounded.
According to the order of the judges, the accused and the material supporting the indictment should be transferred to the BH prosecutors within 30 days of the final decision. The ICTY Prosecutors should monitor the proceedings in BH, in cooperation with OSCE, and report to the Tribunal on regular basis. The Bench has also ordered that the protective measures ordered by the ICTY judges for victims and witnesses shall remain in force.
The accused Gruban who had been provisionally released and who was awaiting trial in SCG will now remain in The Hague, "to avoid any uncertainties", as the presiding judge explained. The four accused may file an appeal against the referral.