Home
FIFTH TRIAL FOR PRIJEDOR CAMPS TO START THIS FALL
Mejakic et al. case is ready to proceed to trial, set to begin in the fall of 2004. The prosecution plans to hear the testimony of 57 witnesses and will need six weeks to present their case. The accused praise the "wonderful treatment" in the Detention Unit.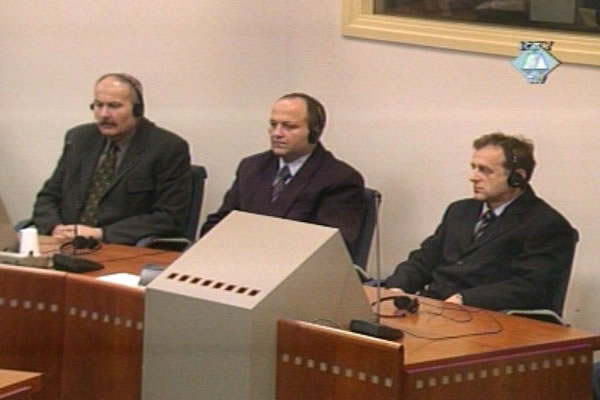 Zeljko Mejakic, Dusan Fustar i Dusan Knezevic in the courtroom
The trial of the four accused for the crimes in the camps of Omarska and Keraterm in Prijedor should begin this fall – the pre-trial judge Patrick Robinson announced at a status conference today. The prerequisite is for one of the trial chambers, currently hearing a total of six cases, to be free to take on this case.
At the status conference, three of the four accused sat in the dock: Zeljko Mejakic, former guard commander in Omarska, Dusan Fustar, leader of a guard shift in Keraterm and Dusan Knezevic, who is accused of visiting both camps to abuse the detainees. The fourth accused, Momcilo Gruban, former leader of a guard shift in Omarska has been provisionally released pending trial.
The prosecution case, during which 57 witnesses should be heard, according to the estimate of prosecutor Joanne Korner, could last about six weeks, provided that the prosecution and defence agree about the "context" in which the events in Prijedor happened in the spring and summer of 1992. As Korner said today, if the prosecution will have to prove the "context" of these events, she will need more time.
The entire trial , in the estimate of Judge Robinson, could be concluded in six months.
This will be the fifth trial in The Hague focusing on the events in Prijedor and the notorious camps that existed there in the summer 1992. Dusko Tadic, Milomir Stakic, Miroslav Kvocka, Mladjo Radic, Milojica Kos, Dragoljub Prcac, Zoran Zigic, Dusko Sikirica, Damir Dosen and Dragan Kolundzija were already tried for the crimes in Omarska, Keraterm and Trnopolje. They were all convicted and sentenced to prison sentences ranging from 3 years (Kolundzija) to life (Stakic). Predrag Banovic pled guilty to crimes in Keraterm before the trial and was sentenced to eight years in prison.
Addressing the judges at the end of the status conference today, the accused Mejakic, Fustar and Knezevic took the opportunity to praise the management and the guards for the good conditions and "wonderful treatment" in the Detention Unit of the Tribunal.