Home
THE ACCUSED WANT TO BE TRIED IN THE HAGUE
The defense of the four accused in the Omarska case opposes the deferral of the case to BH – for reasons of "economy" and doubts about the impartiality of the court in Sarajevo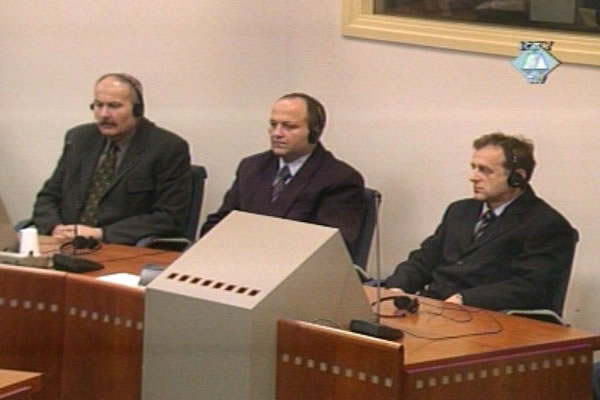 Zeljko Mejakic, Dusan Fustar i Dusan Knezevic in the courtroom
"Charges in the case of Mejakic et al. are serious enough to merit a trial before the Tribunal, but in view of the UN resolutions about the end of the ICTY mandate, it would be appropriate to transfer the case to Bosnia and Herzegovina," said prosecutor Susan Somers today at a hearing to discuss the prosecution's application for the referral of the case.
The prosecutors furthermore believe that the four former commanders, guards and visitors of the Omarska and Keraterm camps should be tried together and definitely in Bosnia and Herzegovina where the crimes were committed. Zeljko Mejakic, Dusan Fustar and Dusko Knezevic, who are in detention, and Momcilo Gruban, who has been provisionally released, are the last group of persons indicted by the ICTY for the crimes in the Prijedor camps in 1992.
The defense of the accused opposes the referral – for reasons of "economy", but also because they have doubts about the impartiality of the court in Sarajevo.
Since the case is ready to proceed to trial and the trial itself would not last long, the referral of the case would result in long delays, in the opinion of the defense counsel.
Moreover, "there is clear ethnic, political and religious intolerance in BH", in the opinion of Mejakic's lawyer Jovan Simic, "which could result in the pressure on the victims, defense, and even the judges." Simic thinks that in BH "there is a media campaign preparing the ground for the Omarska crimes trial."
President of the Court of Bosnia and Herzegovina, Medzida Kreso, responded by saying that BH was ready to take on cases from the Tribunal and ensure "a fair trial." "We would thus show that we are ready to tackle the deviant forms of behavior that are the legacy of the war in the society," she noted.
Representatives of Serbia and Montenegro also participate in the hearing, having requested that the case be referred to its courts. The defense counsel for the accused note that if the accused cannot remain in The Hague, they would prefer for their case to be referred to Serbia and Montenegro
The hearing will continue Friday.
This is the second hearing before the Tribunal to discuss an application for the referral of a case. The first was held last month, in the Ademi/Norac case, to discuss the possibility of its referral to a court in Croatia. All parties – defense, representatives of the Croatian government and amici curiae supported the prosecution application for referral.