Home
HADZIHASANOVIC: DID HE LACK STRENGHT OR WILL?
At the appellate hearing today, the defense states that in the fall of 1993, Enver Hadzihasanovic didn't have 'physical capabilities to prevent and punish' the Mujahideen crimes. The prosecution claimed that, on the contrary, the then commander of the 3rd Corps did not lack strength. What he did lack was will, and this entails command responsibility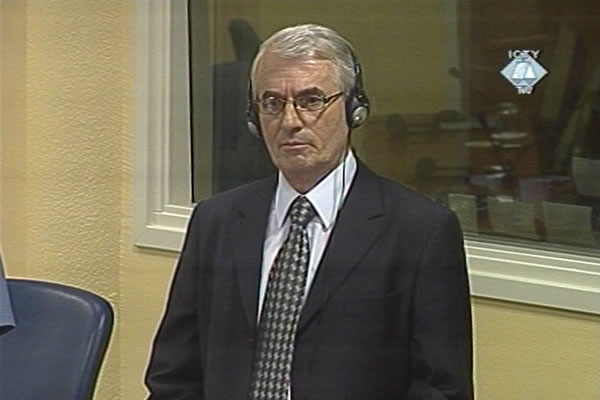 Enver Hadzihasanovic during the five minute long speech in front of the Appeals chamber
At the appellate hearing today, General Enver Hadzihasanovic's defense counsel argued in support of the request for the quashing of his conviction for failure to prevent or punish the killing of Dragan Popovic and Mladen Havranek in the Mudjahideen camp in Orasac and in the furniture showroom in Bugojno and for cruel treatment of prisoners in the Music School in Zenica. In March 2006, Hadzihasanovic was sentenced to five years in prison.
The defense claims that the Trial Chamber erred when it concluded that Hadzihasanovic as the commander of the Corps, didn't take 'the necessary and reasonable' measures to prevent or punish the crimes committed by his subordinates. The defense challenges the conclusion that in October 1993, when the crimes in Orasac were committed, the Mujahideen were under 'effective control' of the 3rd Corps. There was no 'superior-subordinate relationship between the El Mujahid Detachment and Hadzihasanovic,' his defense claims. According to the defense, for a commander to be responsible for failure to prevent or punish a crime, he has to have 'physical capabilities to prevent and punish' and effective control 'cannot be established by use of force'.
The prosecution challenges this argument, saying that 'resorting to use of force against the subordinates that are preparing to perpetrate a crime is a reasonable preventive measure in line with the responsibility of a commander'. Pointing to the fact that there were between 100 and 150 Mujahideen in two camps in the area of responsibility of the 3rd Corps in October 1993, the prosecution believes that Hadzihasanovic did have the 'physical capabilities' to restrain them and put them under control. He had about 30,000 men under his command, including some 450 men in the military police battalion. In conclusion, the prosecution said that 'he didn't lack strength, he lacked will and this entails command responsibility'.
[IMAGE]3134[/IMAGE]As today's hearing drew to a close, the two appellants were given a chance to address the Appeals Chamber. Amir Kubura, who already served his 2,5-year sentence, was brief. He said he 'has confidence in the Tribunal'. Enver Hadzihasanovic stressed that he had defended his country in the war as a professional soldier with no ethnic or religious prejudice. He concluded his five minute speech to the judges saying, 'despite the fact that I was convicted, I still believe in the work of this Tribunal, which is good for BH'.
Closing the hearing, the presiding judge of the Appeals Chamber announced that the judgment would be delivered 'soon'.