Home
PROSECUTION CALLS FOR DOUBLING OF SENTENCES FOR HADZIHASANOVIC AND KUBURA
At the beginning of the two-day appellate hearing in the case of Hadzihasanovic, former commander of the BH Army 3rd Corps, and Kubura, former commander of the 7th Muslim Brigade, the Appeals Chamber heard the arguments on the prosecution appeal and the appeal filed by Amir Kubura. The prosecution appealed against the sentences and Kubura appealed his conviction and sentence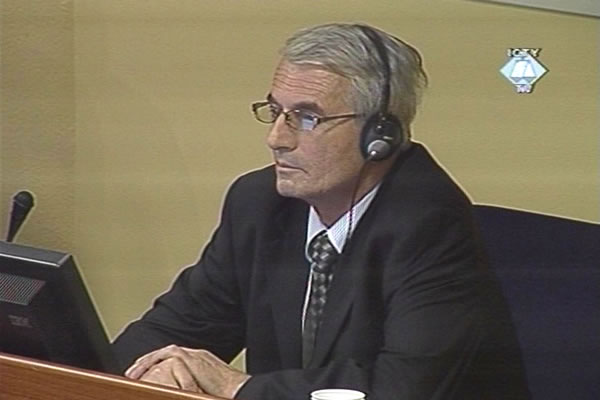 Enver Hadzihasanovic in the courtroom
On the first day of the appellate hearing in the case of Enver Hadzihasanovic and Amir Kubura, the prosecution called for the doubling of their sentences. In March 2006, the two former BH Army commanders were found guilty because they failed to prevent and punish crimes committed by their subordinates. They were subsequently sentenced to five and two and a half years in prison respectively.
The prosecution contends the sentences 'are patently inadequate and unreasonable' and calls for a ten-year sentence for Enver Hadzihasanovic and a five-year sentence for Kubura.
In support of their arguments, the prosecutors noted that the sentences delivered by the Trial Chamber didn't reflect the gravity of the crimes the accused have been found guilty of, or the level of their command responsibility for failing to prevent or punish the crimes.
As the prosecution argued, Hadzihasanovic was found guilty because he failed to take reasonable measures to prevent the brutal killing of Dragan Popovic. On 21 October 1993, the Mujahideen ritually cut Popovic's head off in the Orasac camp. Hasanovic was also found guilty because he failed to punish the murder of Mladen Havranek. In August 1993, Havranek was captured and beaten to death in the furniture showroom in Bugojno. Former 3rd Corps commander was also found guilty because he failed to prevent or punish cruel treatment of prisoners in the Music School in Zenica and a number of facilities in Bugojno. Brigadier Kubura was found guilty because he failed to prevent or punish the looting of property in the Ovnak area in June 1993 and in Vares in November 1993.
[IMAGE]3130[/IMAGE]The prosecution did not appeal against the mild sentences, but also against the acquittal of Amir Kubura on charges of the destruction caused by members of the 7th Muslim Brigade as they plundered Vares on 3 and 4 November 1993. According to the prosecution, plundering and destruction 'go hand in hand': the soldiers shattered the shop windows and broke down the doors of all the shops in town in order to get to the booty.
The appeal filed by Amir Kubura was also discussed today. Kubura sat with his lawyers, because he has already served his sentence. Hadzihasanovic, who has been provisionally released pending the final judgment in his case, sat in the dock. As Kubura's counsel noted, his appeal is 'not academic in nature'… because the fact that he has been found guilty and sentenced for a war crime ' affected his reputation and career in the BH Army as well as his ability to travel'.
Tomorrow, the Appeals Chamber will hear arguments about the five grounds for appeal filed by Enver Hadzihasanovic. He has appealed both the conviction and the sentence. In his reply today to the prosecution's call for the doubling of sentences, Hadzihasanovic's defense counsel expressed his belief that the Appeals Chamber would accept his argument and thus render the prosecution's appeal moot.