Home
"PATTERN OF PROPER CONDUCT" OF THE ARMY IN KOSOVO
According to Milosevic, documents tendered into evidence through the testimony of General Bozidar Delic prove the "continuity of proper conduct of the army" and challenge the allegations made by the prosecution about the "pattern of violence" in which Albanian villages were attacked and civilians expelled in Kosovo in 1999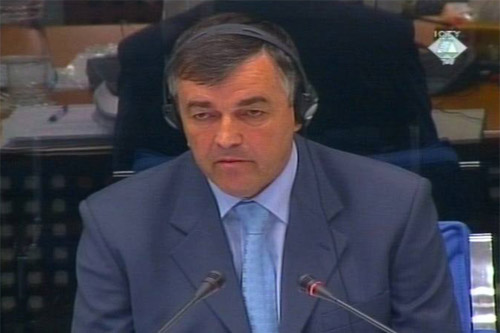 Bozidar Delic, defense witness for Milosevic
On the second day of the testimony of General Bozidar Delic, former commander of the 549 Motorized Brigade of the Yugoslav Army, Slobodan Milosevic tendered into evidence dozens of military documents speaking about the escalation of the terrorist activities in Kosovo in the first half of 1998, the arming of the KLA and the training their members received in Albania, attacks on the police and Serbian villages and the violence against Albanians who refused to join or financially support the KLA.
Milosevic and his defense witness claim that the Yugoslav Army responded to all that in accordance with its Service Manual. If there were any violations, appropriate measures were taken against them. According to Milosevic, the documents presented today show the "continuity of proper conduct of the army", in the face of an "organized escalation of terrorist activities". By making reference to the "continuity", Milosevic is using the 1998 documents to challenge the prosecution argument about a "pattern of violence" in which the military and the police attacked the Albanian villages, killing or expelling the inhabitants in the first half of 1999.
Milosevic today showed video tapes of three incidents near the border posts at Morina and Kosara, at the border with Albania, in April 1998. All three cases involved attempts at illegal border crossing and smuggling of weapons into Kosovo. According to General Delic, "persons attempting to cross the border illegally" ignored the calls of the soldiers to stop and put down their weapons; in fact, they opened fire on the border guards, who returned fire in accordance with the rules of engagement. Nineteen illegals were killed and two captured in the incident that occurred on 23 April 1998 at the Kosara border post. Noting that the border post was manned by six soldiers and one non-commissioned officer, while the armed group that attempted to cross the border numbered between 150 and 200 people, Milosevic challenged the claims made by the prosecution that this amounted to "disproportionate use of force" by the Yugoslav security forces.
General Delic's testimony will continue next Wednesday, when Milosevic and his witness should finally address the events that took place in the first half of 1999 and that are covered by the indictment. Two former soldiers of the 549 Motorized Brigade testified about the events in that period as prosecution witnesses. They described attacks on the Albanian villages and the murder of civilians. Protected witness K-32 claimed that in March 1999, as the attack on the village of Jeskovo began, he was close Bozidar Delic, who was a colonel at the time, when the general issued the order, "Don't leave anyone alive."
Milosevic will no doubt provide his witness with an opportunity to respond to this claim made by his former soldier.