Home
TRBIC PLEADS NOT GUILTY OF SREBRENICA KILLINGS
At his further appearance before a Tribunal judge, former security officer of the VRS Zvornik Brigade Milorad Trbic pleads not guilty on the only count of the indictment charging him with the crime against humanity, committed in Srebrenica in July 1995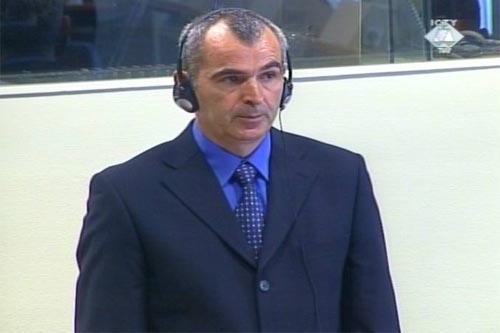 Milorad Trbic in the courtroom
Milorad Trbic, former security officer in the VRS Zvornik Brigade of the Drina Corps, pleaded not guilty today on the sole count of the indictment which charges him with the crime against humanity, committed in Srebrenica in July 1995. Trbic was charged with "personally taking part in organizing the imprisonment and killings of thousands of Bosniak men who were transported through the zone of responsibility of his brigade between 13 and 17 July 1995."
Trbic was transferred to the Detention Unit of the Hague Tribunal on 7 April. At the initial appearance before an ICTY judge on 13 April, he used his right to postpone entering a plea for 30 days. In the course of today's presentations, Trbic said that he had worked as a machine technician in the United States until being transferred to the UN Detention Unit.
Trbic was the eighth indictee detained by the Hague Tribunal who pleaded not guilty of the crimes committed in Srebrenica. Before him, Ljubomir Beara, Vinko Pandurevic, Vujadin Popovic, Drago Nikolic, Ljubomir Borovcanin, Milan Gvero and Radivoje Miletic entered the same plea. General Zdravko Tolimir, who has also been indicted on those charges, is still at large.
At today's hearing the prosecutor Peter McCloskey said that "work was still in progress" on the motion to join all the Srebrenica indictments into one case, so that all the indictees can be tried together.