Home
TELEGRAM COMMUNICATION BETWEEN TRBIC AND HIS LAWYER
At a status conference in the case against Milorad Trbic, the parties state that preparations for his trial are underway, despite the fact that a decision on the referral of his case to BH courts is yet to be handed down. Trbic is charged with complicity in the Srebrenica genocide. Today he complained about problems with his defense counsel, stating that they communicate by telegram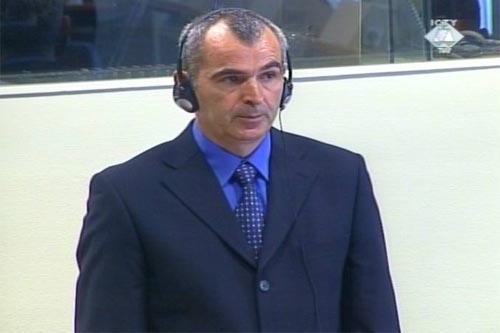 Milorad Trbic in the courtroom
Although no decision has been made yet on whether to refer Milorad Trbic's case to the BH courts, preparations for his trial in The Hague are underway.
At the status conference in the case against former security officers in the VRS Zvornik Brigade, the pre-trial judge stated that an order had been issued two days ago to the parties to proceed with preparations for the trial, noting however that the Referral Chamber has yet to render its decision on whether the case would be referred to BH courts.
Trbic, who faces charges of complicity in the Srebrenica genocide, repeated today he was not opposed to a trial in Sarajevo. He said that he had problems with his defense counsel. "I communicate with him solely by telegram. He keeps sending telegrams to me, and I don't want that," Trbic said, adding that he never understood the telegrams. He would need another lawyer, he noted, to explain to him what is in those telegrams.
Trbic asked leave to read out at least the three most recent telegrams sent to him by his defense counsel so that "everyone would see" what kind of representation he had. He was not allowed to do so.
Trbic's Swiss lawyer Pilletta-Zanin went against his client's wishes in January, when he opposed the referral of his case to Sarajevo because of alleged threats against Trbic. The accused said he had been surprised to hear his lawyer allege that.
Details of this unusual spat between the defense counsel and his client were discussed mostly in closed session. The next status conference will be held in four months' time.