Home
TRBIC WANTS TO BE TRIED IN BH, BUT BH DOESN'T WANT TO TRY HIM
Milorad Trbic claims he is healthy, but doctors say his competence to stand trial is "questionable". The accused agrees with the prosecution's application for the referral of his case to the court in Sarajevo, but the BH Government representatives oppose it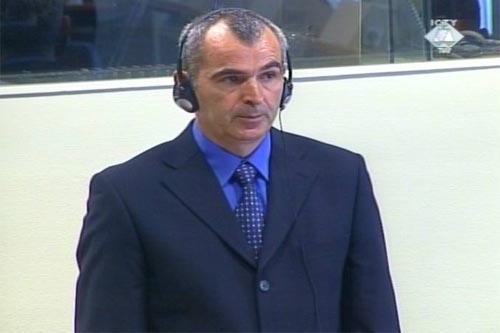 Milorad Trbic in the courtroom
ICTY indictees as a rule oppose the prosecution's applications for the referral of their cases to local courts. The countries in the region, on the other hand, often compete with each other for the opportunity to hear ICTY cases. The case of Milorad Trbic, former security officer in the VRS Zvornik Brigade, charged with complicity in the Srebrenica genocide, is an exception to this rule. He wants be tried before the State Court in Sarajevo. The BH Government is opposed and wants him to be tried in The Hague.
Last year, the Chamber ordered the accused to undergo a psychiatric evaluation. The psychiatrists concluded that because of Trbic's mental problems, his competence to stand trial was "questionable". Yet, at the hearing today before the referral chamber Trbic claimed he was "healthy and able to stand trial". Any doubts about his health, Trbic said, were "unjustified and doctors are unnecessary". That is why he asked for his case to be referred to BH courts, where he would then be tried and his guilt or innocence determined.
However, the impression is that the BH Government puts more store by what the psychiatrists say and is therefore reluctant to take his case. As Milana Popadic, representative of the BH Justice Ministry, explained, there are no institutions equipped to accommodate detainees who "are a danger to themselves and others" because of their impaired mental health. The BH Government representative went on to say that it would not be appropriate to refer to national courts cases involving the gravest of crimes such as genocide.
Prosecutor Susan Sommers's response to this attitude by the BH authorities was quite harsh: she warned the Justice Ministry representative that BH would have to explain its people that it was not ready to try persons accused of genocide. Sommers reminded the judges that a trial of that magnitude is currently being held before the State Court in Sarajevo, for the mass murder of Bosniaks in Kravica in July 1995. The prosecution also considers that BH, "if it wants to be a factor in the international community" cannot try only healthy accused, but must take measures to be able to try those with mental health problems.
Trbic's defense counsel Piletta-Zanin added a further twist to an already complicated case: contrary to his client's wishes, he questioned the advisability of the referral of his case to Sarajevo, mentioning threats Trbic had received. This issue was discussed mostly in closed session. In response to his defense counsel's claims, the accused said he was "surprised by the allegations". It was not clear to him, he said, whether Piletta-Zanin did this to intimidate him or because he really had some knowledge of threats.
Milorad Trbic is charged with participation in the mass execution of about a thousand Bosnian prisoners in Orahovac near Srebrenica on 13 July 1995. He allegedly personally killed some of the victims. Trbic's case has been severed from that of the other seven Bosnian Serb military and police officers currently on trial for Srebrenica trial.