Home
CAPTAIN RAMBO TO UNDERGO MEDICAL TREATMENT
A series of psychiatric examinations determined that former JNA captain Vladimir Kovacevic nicknamed Rambo was unable to enter a plea and that he must undergo treatment in a closed psychiatric institution - Has Minister Mihajlovic prevented Kovacevic from surrendering voluntarily in order not to "harm Admiral Jokic"?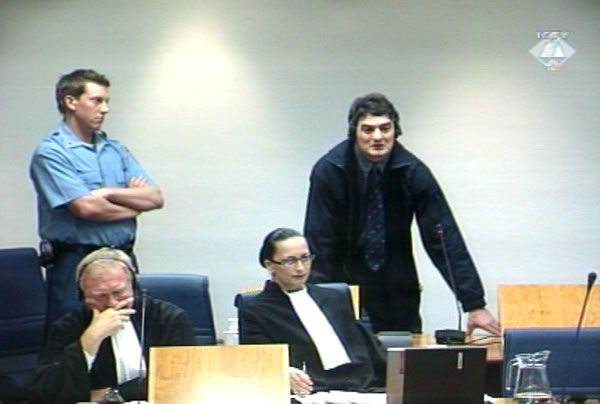 Vladimir Kovacevic "Rambo" in the courtroom
Almost half a year after his arrest and transfer to The Hague, Vladimir Kovacevic nicknamed Rambo has yet to enter his plea on the counts of the indictment charging him with attacks on civilians, murder and cruel treatment and unjustified destruction of religious and cultural institutions in the course of the Dubrovnik operation launched by the former JNA in late 1991. Captain Kovacevic took part in the operation as the commander of the 3rd Battalion of the JNA Trebinje Brigade.
Over the past few months, the accused has been subjected to a series of psychiatric examinations ordered by the Trial Chamber, in order to determine whether he was able to understand the indictment and to enter his plea. The findings were discussed today in closed session. A part of the status conference was conducted in open session, where it was merely stated that the accused was found to be psychotic and that his condition precluded him from entering his plea. Kovacevic's defence considers that due to this fact the accused is unfit to stand trial, but the prosecution does not wish to make any final conclusions as to his fitness for trial.
Psychiatrists proposed that – since the accused in his present state may be a threat to himself and others – he should undergo treatment in a closed psychiatric institution in his own country. Most of today's status conference was devoted to a discussion of a legal framework for Kovacevic's treatment. The defence wanted him to be "provisionally released with the obligation to undergo treatment" while the prosecution sought the "modification of conditions of detention," whereby the accused would be transferred from the UN Detention Unit to a closed psychiatric institution in Belgrade, where he would have to undergo treatment and take medication prescribed by his doctors even if it were against his will… "until such time when he will no longer be a threat to himself and others." It was also intimated that Kovacevic – if he is declared fit for trial after his treatment – could be tried before a national court.
After the defence counsel informed the Trial Chamber that the accused was willing to undergo treatment in Belgrade, although he initially claimed that he did not trust "Serb authorities and psychiatrists", the judges asked Kovacevic when and why he had changed his mind. In his lengthy reply, Kovacevic said that before his transfer to The Hague, the doctors and medical personnel in Belgrade, who allegedly worked for the state security service, "had kept him behind bars", "tied him to the bed" and forced him to take various drugs, but that now he trusted the Military Medical Academy Hospital chief, Dr. Stankovic who had informed him through the defence team that he would take care of him, would not tie him down and would try to cure him.
Kovacevic claims that he was willing to surrender to the Tribunal voluntarily, but that he was prevented from doing so by the former Serbian Minister of the Interior, Dusko Mihajlovic who told him not to do it as "it would harm Admiral Jokic." He also claims that his apartment was burglarised after that and that the documents and video tapes he had prepared for his defence had disappeared. He added that he "did not command" the attack on Dubrovnik, that "admirals and generals did it", while he was merely "one of the 160 captains" involved in the Dubrovnik operation.
In his emotional address to the judges, Kovacevic promised that he would come to The Hague voluntarily once he is cured to name those who are responsible. Apparently alluding to General Strugar whose defence has claimed that he is unfit for trial because of his dementia, the accused finally said:
"This guy here is forgetful now, does not remember this, does not remember that, wants to blame it all on a captain."
In his closing remarks, the presiding judge said that the Chamber would soon issue a written decision on the terms under which the accused would undergo psychiatric treatment in Belgrade.