Home
ARMED STRUGGLE CONTINUED DESPITE THE DIVISION OF BH
At a meeting of the BH Army top in Zenica on 22 August 1993, the participants discussed what attitude the military would take if the political leadership agreed to the division of BH at the talks in Geneva. The operation Neretva '93 was not discussed, Sefer Halilovic's defense claims. General Vahid Karavelic confirmed the defense argument as his testimony continued, saying that "this is precisely how he remembers it"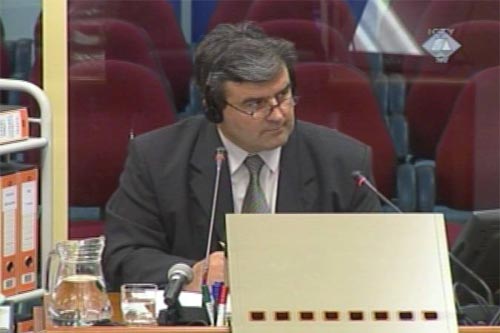 Vahid Karavelic, witness in the Halilovic trial
The operation Neretva '93 was not discussed at the meeting of the BH Army military leaders in Zenica on 22 August 1993, claims Sefer Halilovic's defense. As General Vahid Karavelic continued his testimony before the ICTY, he confirmed this argument saying that "this is precisely how he remembers it."
The indictment against the former Chief of Staff of the BH Army, Sefer Halilovic, alleges that after the meeting in Zenica, Halilovic was appointed the commander of the Neretva '93 operation. The crimes in Grabovica and Uzdol in September 1993 were committed in the course of that operation. Halilovic has been charged with the crimes on the basis of command responsibility.
The meeting of the Main Staff attended by the commanders of the corps in Zenica was chaired by the then commander of the BH Army, Rasim Delic. The defense claims that the main topic of the debate was the attitude the military would take if the BH political leadership agreed to the division of BH at the talks in Geneva.
The video-tape of the meeting in Zenica, played in the courtroom, shows Halilovic informing the corps commanders that, according to the media reports, the BH Presidency, without Ganic, had allegedly already agreed in Geneva to start the division. "This agreement," Halilovic said then, was "a shameful defeat for the BH Army" and the first stage in the destruction of the state of Bosnia and Herzegovina and the Muslim people in it. In order to prevent that, in Halilovic's opinion, the military leadership had to make every effort to strengthen the army, to step up its level of combat readiness and organization in order for the armed struggle to continue.
The defense is also quoting the conclusions from the Zenica meeting, signed by Commander Rasim Delic. According to this document, the main item on the agenda was "the goals of the struggle for liberation", because, according to some of the participants, "some of the goals have been jeopardized."