Home
WHEN ARMIES PLAY – CIVILIANS GET HURT
British reporter Kate Adie testified today at the trial of Sefer Halilovic. On 15 September 1993, she reported on the plight of the Croatian civilians in Uzdol for BBC. According to her, there was no real, organized army in Bosnia at the time; to her, it all seemed like people "playing army"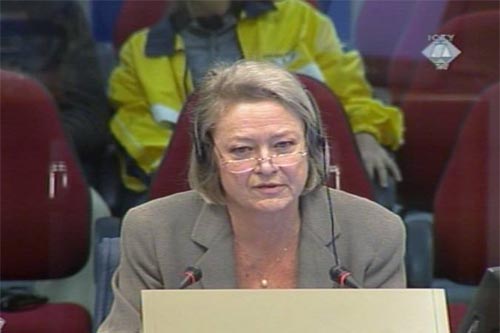 Kate Adie, witness in the Halilovic trial
BBC reporter Kate Adie testified today at the trial of the former BH Army Chief of Staff, Sefer Halilovic. Together with her cameraman, she filmed the Croatian victims killed in Uzdol on 15 September 1993. The images were broadcast around the world the same evening.
On 15 September 1993, the British reporter and her cameraman first visited Prozor, escorted by British troops that were part of UNPROFOR in Bosnia. There they were showed the bodies of 23 people and told that the bodies had been brought there from Uzdol. Those were all elderly people and a child. As she said, they were all wrapped up in clean blankets. The Croats that showed them the bodies claimed that the crime had been committed by Muslims who had attacked the village the day before.
She went to Uzdol the same day and saw about 10 more bodies. Both of their reports were shown on BBC that night. The witness claims she did not see any HVO troops in Uzdol that day. All of the people that had been killed, the reporter says, were civilians and none of them were armed. As she explained, there was no sign of any artillery shelling in Uzdol or any fighting which would have indicated that the villagers had offered resistance.
When asked by the defense if she had heard of the "home guard" at that time, the British reporter replied that their existence was "pure fabrication." She gave a similar answer when she was asked if she had known that certain military operations had been ongoing in the Neretva valley at that time. According to her, there were no military operations in the Neretva valley. If there had been any, she "would have known about it for sure" because she "would have certainly been notified about that by the British forces." Apart from that, as she said, at that time there was no real, organized army in Bosnia at the time, on any of the sides. According to her, this was just "people playing army".
As she said, there were no reporters in Bosnia either. She ascribed their existence to "fantasy" of defense counsel Peter Morrissey. All three sides had just the "propaganda machinery" that produced, or broadcast "pure rubbish." She did not listen to that and she had no call to comment on what the other, local media were publishing at the time.
The defense also wanted to know why the reporter never asked about any survivors from the village. She replied that she had been sure there had been none and that "reporters never ask pointless questions."
After Kate Adie's testimony, the trial Sefer Halilovic, former BH Army Chief of Staff, charged with failure to punish the perpetrators of the crime in Uzdol, continued with the testimony of General Vahid Karavelic. This is the third time the general has testified in The Hague.