Home
STRANGE THINGS AND DIRTY GAMES IN GRABOVICA
BH Army soldiers of "other faith" "disappeared" in Grabovica in September 1993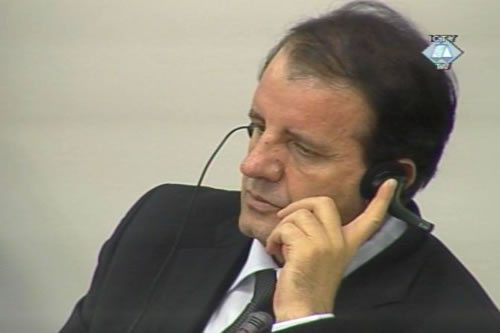 Sefer Halilovic in the courtroom
"Strange things were happening" in the Herzegovinian village of Grabovica in September 1993, testified Zakir Okovic, operations officer in 1st Corps, 2nd Battalion of the BH Army at the trial of Sefer Halilovic.
Okovic arrived in Grabovica on 8 September 1993, with about a hundred troops of the 2nd Battalion. He was sent there on the orders of the commander of Operation Neretva 93, Sefer Halilovic, as part of the preparations for the operation to de-block Mostar. His immediate superior was the battalion commander Adnan Solakovic, but his unit was to be attached to Zulfikar Alispago a/k/a Zuka, commander of the 10th Mountain Brigade.
"Strange things" started happening soon, said Okovic describing several unexplained murders of BH Army soldiers who were not Muslims. The body of one of "Zuka's soldiers", a Croat, was found on 10 September, Okovic testified. The witness later heard of five or six other murders in the village.
A previous prosecution witness, also a member of the 2nd Independent Battalion, has recently testified that they used to give Muslim nicknames or names to their fellow fighters of "other faith", because of concerns that the notorious "Cela's men" might attack them. There were many criminals among Cela's men.
"People would disappear overnight, and we feared for our soldiers of other faith," Okovic described the situation that led him and Solakovic to send a coded message to the commander of the 1st Corps, Vahid Karavelic, on 10 September, notifying him about what was happening and warning him that "there could be conflicts" between their men and the soldiers who were killing civilians and soldiers of "other faith". "We don't want to take part in those dirty games," Okovic and Solakovic wrote in the coded message, They never received any reply.
Solakovic was not in Grabovica that night. When he returned on 11 September, he learned from other soldiers "that quite a few Croat men, women and children died in the village." When he was asked by prosecutor Sureta Chana whether he had been told who had killed them, the witness said he had not, adding that "no one would have answered that question then."
Okovic then requested that he and his unit be taken off the operation, but this was not approved. He left Grabovica on 19 September, when the operation was completed. In a combat report he wrote a few days later, he did not mention the murders that "no one had done anything about." Okovic did not notify anyone. The first time he was asked to give a statement was in 1998 by the cantonal court.
The accused Sefer Halilovic, former Chief of the BH Army Supreme Command Staff, is charged with the murder of over 60 Croat civilians in the villages of Grabovica and Uzdol. He is charged, as the commander of the operation, for failing to prevent or punish the crimes committed by troops of units subordinate to him.