Home
FATMIR LIMAJ IS THE FIRST DEFENCE WITNESS
The prosecution has rested its case at the trial of the three former KLA members accused of the crimes in the Lapusnik camp. The trial will continue on 17 May with the testimony of the first accused, Fatmir Limaj, also known as Commander Çeliku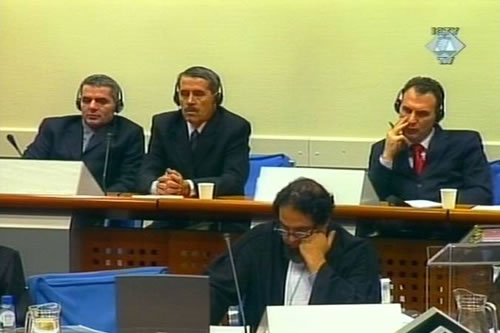 Isak Musliu, Hajradin Bala and Fatmir Limaj in the courtroom
The testimony of Philip Coo, OTP military analyst, marked the end of the prosecution case at the trial of Fatmir Limaj, Isak Musliu and Haradin Bala, charged with the crimes in the Lapusnik camp in 1998.
The trial began on 15 November last year and has so far taken 67 days. In that time, the prosecution called 29 live witnesses and submitted depositions from 28 additional witnesses. The prosecution tendered into evidence 245 exhibits.
The witnesses included survivors of the Lapusnik camp – Serbs and Albanians – and close relatives of the victims who lost their lives in the camp or were shot dead after it was evacuated in late July 1998, as alleged in the indictment.
The prosecution also called several former KLA commanders and leaders, such as Sulejman Selimi, Shukri Buja and Jakup Krasniqi, who appeared at the trial of their former fellow fighters as unwilling prosecution witnesses, after subpoenas were issued for their testimony.
The defense is to start presenting its case on 17 May. The first witness, as announced, will be the first-accused, Fatmir Limaj, also known as Commander Çeliku. His testimony, together with the cross-examination, is expected to last at least a week.
Judging by the announcements by the defense counsel, the defense case should be relatively short. The defense counsel for Fatmir Limaj and Isak Musliu estimate that they will each need two to three weeks for their evidence while Haradin Bala's defense counsel believes it will take him a week or two to present the case.