Home
"COOPERATIVE WITNESS" AT THE LAPUSNIK CAMP TRIAL
Former KLA member, who was stationed in Lapusnik village between May and July 1998, confirms that there was a camp there and that the three accused – Fatmir Limaj, Isak Musliu and Haradin Bala – played the roles the prosecutor alleges they did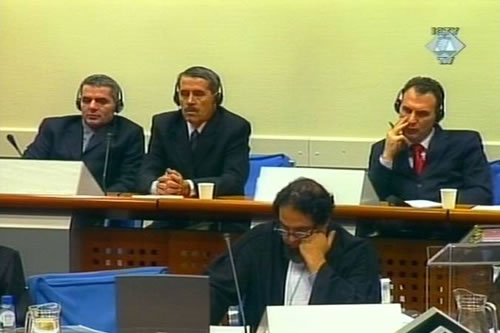 Isak Musliu, Hajradin Bala and Fatmir Limaj in the courtroom
After a series of "unwilling prosecution witnesses", in other words, former KLA members who came to The Hague after a subpoena was issued for their testimony – the prosecution at the trial of Fatmir Limaj, Isak Musliu and Haradin Bala called a "cooperative witness". It is a former KLA member who had been acquitted by the international judges of the District Court in Pristina of charges relating to drug trafficking - the condition was to testify frankly and truthfully in The Hague, at the trial of his former fellow fighters, accused for the crimes in the Lapusnik camp.
The witness is testifying with full protective measures – facial and voice distortion and pseudonym L64. At the very beginning of his examination, the prosecutor revealed all his potential "weak points" which the defense might use in the cross examination. In May 2003, the OTP investigators interviewed the witness for the first time as a suspect in the Lapusnik case, but after a while they told him he was no longer under investigation. The prosecutor also revealed that in 2002, the witness was treated for heroin addiction and that he "acted as a go-between to procure heroin" for some of his acquaintances.
As a KLA member, witness L64 was stationed in Lapusnik between May and end of July 1998. He confirmed that a camp for the Kosovo Albanians suspected of collaboration with the Serbian authorities was located at a farm in Lapusnik, where the headquarters of the local KLA unit was. The witness claims that he entered the houses where the prison was at least 7 or 8 times, that the rooms in which the prisoners were kept were overcrowded and stinking and that he saw evidence of abuse on the prisoners from time to time.
L 64 testified that he had seen all three of the accused in Lapusnik and that their roles corresponded to those alleged by the prosecutor. Haradin Bala was a guard and stood "either in front or behind the prison door." The witness doesn't think that Bala was guilty of any wrongdoing and claims that he had "never seen him abuse anyone in Lapusnik or heard about it from anyone."
Isak Musliu was a commander of one of the KLA positions in Lapusnik and the witness saw him often around the camp, as he testified. On one occasion he claims to have seen Musliu get out of a room where the prisoners were kept with a mask on his face. In the course of the trial so far, several former detainees of Lapusnik testified that Musliu occasionally wore a mask when he went in to beat the prisoners.
Finally, the witness described Fatmir Limaj, the first accused also known as Commander Çeliku, as a regional KLA commander headquartered in Klecka. He claims to have seen him a dozen times in Lapusnik, when he brought weapons, came to meet with other KLA commanders or attended the oath-taking ceremony.
In the three days of the testimony of witness L 64, prosecutor has often asked for private sessions, so that the public has not had access to the entire testimony of this witness. This is bound to be repeated in the cross-examination during which the defense counsel of the three accused will in all likelihood not spare the "cooperative prosecution witness"