Home
KVOCKA GRANTED EARLY RELEASE
Miroslav Kvocka has been set free after serving two thirds of his sentence in the UN Detention Unit. He was sentenced to seven years in prison for crimes in the Omarska camp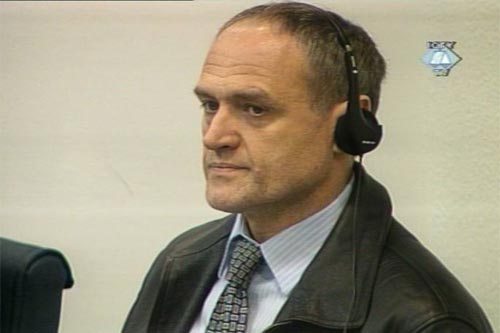 Miroslav Kvocka in the courtroom
Miroslav Kvocka, former police officer from Prijedor area, has been set free after serving two thirds of his prison sentence in the UN Detention Unit. ICTY President Theodor Meron granted Kvocka's motion for early release after consulting the Commanding Officer of the Detention Unit, the Office of the Prosecutor and the judges, as required by the rules.
In the Trial Chamber's judgment, confirmed for the most part by the Appeals Chamber, Kvocka was sentenced to seven years in prison after he was found guilty of persecution and several murders and cases of torture in the Omarska camp. The judges concluded that as a deputy commander of the guard Kvocka had a certain degree of authority in Omarska, but that his attempts to prevent the crimes against the detainees were quite limited. Therefore he was found guilty of complicity in the crimes.
Kvocka was arrested and transferred to the UN Detention Unit in April 1998. The first-instance judgment was delivered in November 2001. In 2003 he was provisionally released until the time the appellate judgment was delivered in February 2005.