Home
TWO MORE TRIBUNAL CONVICTS GRANTED EARLY RELEASE
The Tribunal's President decides to grant early release to two former prison camp guards: Mladjo Radic, a shift leader in Omarska, and Haradin Bala, a KLA guard from Lapusnik. Radic was serving a 20-year sentence and Bala had been sentenced to 13 years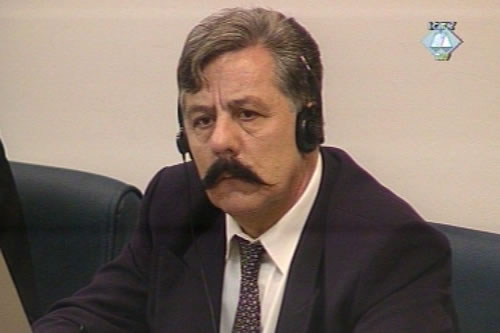 Mladjo Radic in the courtroom
Following the early release of Bosnian Serb army officer Vidoje Blagojevic, two more persons convicted by the Tribunal were granted early release by a decision of the Tribunal's President, Judge Theodor Meron. Vidoje Blagojevic was sentenced to 15 years in prison for aiding the genocide in Srebrenica.

Former shift leader in the Omarska prison camp Mladjo Radic a/k/a Krkan was granted early release after serving part of his 20-year prison sentence. Former guard in the Lapusnik prison camp Haradin Bala, also called Shala, was sentenced to 13 years in prison and was also granted early release. Radic and Bala were both convicted of crimes they committed in the prison camps where they worked. Radic and Bala served their sentences in a prison in France and were released on the same day, 31 December 2012. Judge Meron signed the decisions earlier but their redacted versions were made public only now.

Another factor, apart from their good behavior in prison, was the practice of releasing the Tribunal's convicts after they have served two-thirds of their sentences. Mladjo Radic spent 13 years and four months in prison while Haradin Bala spent a little over nine years in prison.

The decision highlights the gravity of the crimes. According to the judgment, as a shift leader in Omarska near Prijedor, Radic played an 'important role in the operation of the prison camp' allowing others to abuse and kill non-Serb detainees and personally abusing prisoners and raping the female detainees. As for Bala, the decision stresses that he participated in the abuse of prisoners in Lapusnik in Kosovo. When the prison camp was closed, Bala took nine detainees to Mount Berisha. There, Bala executed them with the help of one or two KLA soldiers.

Although in Radic's and Bala's case the gravity of perpetrated crimes militated 'against their early release', Judge Meron decided not to go against the current practice whereby the convicts from The Hague are released after they have served two-thirds of their sentences. Bala was tried together with Fatmir Limaj and Isak Musliu; the two of them were found not guilty of crimes in Lapusnik. Radic stood trial with four other prison camp guards and commanders of Omarska, Keraterm and Trnopolje. Three of them, Miroslav Kvocka, Dragoljub Prcac and Milojica Kos, were also granted early release. Zoran Zigic is still serving his 25-year sentence in a prison in Austria.
Photos