Home
COMMANDER BUJA'S SECOND VISIT TO THE HAGUE
After testifying at the trial of Slobodan Milosevic in 2002, former KLA commander Shukri Buja returned to The Hague after a subpoena was issued to him. He appears as an unwilling prosecution witness at the trial of his former fellow fighters accused of crimes in the Lapusnik camp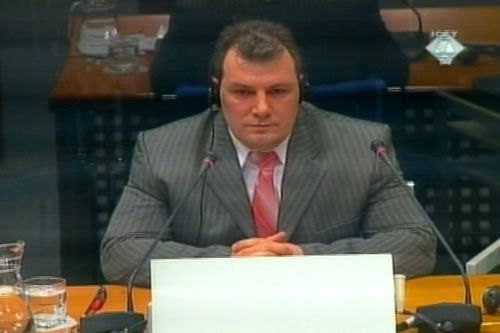 Shukri Buja, witness at the Slobodan Milosevic trial
After testifying at the trial of Slobodan Milosevic in 2002, former KLA commander Shukri Buja returned to The Hague, after a subpoena was issued to him. He appears as an unwilling prosecution witness at the trial of his former fellow fighters accused of crimes in the Lapusnik camp
As soon as he began his testimony, Buja distanced himself from the statement he had made in April 2003 to OTP investigators in Pristina. He claims that the prosecution is using that statement to "blackmail" him, in order to force him to appear before the Tribunal. The prosecutor did not respond to this claim. Instead he persisted in trying to get from the unwilling witness whether he was "trying to tell the truth" in his interview with the investigators in Pristina. Buja was just as persistent in trying to avoid a direct answer. Finally, he did say that he "tried to tell the truth."
In the introductory part of his examination-in-chief, the prosecutor questioned the witness in detail about his stay in Switzerland from 1995 on, about his acquaintance with Hashim Thaci and Fatmir Limaj there and their joint decision to return to Kosovo and to join the fight. In March 1998, they flew to Tirana with a group of 10-15 Kosovo Albanians. Buja said that from there they headed to Kosovo. Limaj stayed in Klecka and was tasked with "organizing a guerilla unit in that area." Thaci gave Buja the same task in the municipalities of Lipljan and Stimlje. For a while, they kept in touch through couriers. According to Buja, Limaj's task was to help him with keeping in touch with Thaci.
Until mid-June 1998, Buja claims, there existed only "guerilla units in villages", which were "not coordinated by anyone'. The only body superior to them was the KLA Main Staff. The first operational sub-zones were established in mid-June. Shukri Buja was appointed the commander of one such zone in Nerodimlje. Buja, however, denies that any such zone was established for the Lapusnik area, adding that he does not know what duties and responsibilities the accused Limaj had in June and July 1998.
After the witness has stated that, the prosecutor asked that Buja be taken out of the courtroom and that the court go into private session. On the basis of the previous experience with unwilling witnesses from the KLA ranks, the prosecutor probably pointed to the contradictions between what Buja was saying in the courtroom and what he had said in his interview with the investigators in April 2003. During the testimony of Sulejman Selimi, former officer in the KLA Main Staff, a shortwhile ago, it appeared that Buja had said in his interview some things that would not be to the liking of the accused. The defense tried in advance of Buja's testimony to bring his credibility into question by asking Selimi if Buja, as the commander of the Nerodimlje sub-zone, had been in the position to know about the events in Lapusnik and about the responsibilities of the people there. Selimi answered promptly that Buja "probably did not know that because he was not in the Main Staff."
After an hour in private session, Buja returned to the courtroom, but the judge informed him that it was established that "the prosecution and the defense worked on different versions of the translation of certain material", and that trial was adjourned until Monday afternoon, by which time the translation problem should be resolved.