Home
NO WOUNDED PEOPLE – NO VIOLENCE
After two persons from the Skopje emergency medical service testify that there were no wounded people or people with visible injuries from violence among the Kosovo refugees who came to Macedonia in the spring of 1999, Milosevic claims it is "clear that these people fled before NATO bombs, not before fire opened by the Serbian security forces or their batons."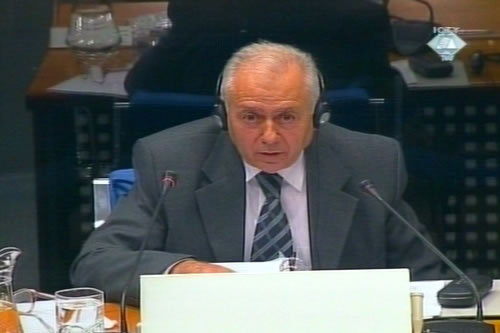 Dobreta Aleksovski, defense witness for Milosevic
If the Albanian civilians who were leaving Kosovo in the spring of 1999 were fleeing the Serbian security forces that had beaten them and opened fire on them, then - as Slobodan Milosevic noted today - there "must have been people who were wounded and people with visible marks from the beatings among them." If there were not, then, according to Milosevic, "it is clear that those people were fleeing before NATO bombs, and not before any fire opened by the Serbian security forces or their batons."
Milosevic tried to prove that there had been no wounded or beaten people among the refugees through the testimony of Dobre Aleksovski, Macedonian doctor who was the head of the emergency medical service in Skopje at the time, and Goran Stojcic, an ambulance driver. Dr. Aleksovski and his mobile units provided medical assistance in the refugee camps on the Macedonian border in the spring of 1999. Dr. Aleksovski brought with him to The Hague an "emergency service logbook", where all the responses his teams had in the refugee camps were recorded.
According to the logbook and Aleksovski's testimony, only 14 cases of "wounds" were recorded. Only one of the wounds was a gunshot wound. As Dr. Aleksovski explained, it was an "old wound", sustained a long time before the arrival of the person in the camp. All the other cases, as the witness recounted, were "minor injuries" – fractures, dislocations, cuts – things that occur in "normal life" every day.
In the first week, from approximately 1 April 1999, the refugees Dr. Aleksovski and his colleagues spoke to told them that they were "fleeing from NATO bombs", the witnesses claimed today. Then, according to Aleksovski and Stojcic, "they suddenly changed tack and started saying that they had fled the terror campaign of the Serbian security forces."
In the cross-examination of Dr. Aleksovski, the prosecutor tried to counter this description of the physical and mental state of the Kosovo refugees with the reports made after the visits to the refugee camps by the UN High Commissioner for Human Rights Mary Robinson, US Ambassador for War Crimes David Scheffer and representatives of the Physicians for Human Rights. The reports describe the "appalling state in the camps", people with "gunshot wounds and marks from beatings", "poor hygiene", "insufficient medical assistance", "health risks" and "consistent statements made by a large number of refugees that they had left Kosovo because of the violence of the Serbian security forces."
Dr. Aleksovski, however, indignantly rejected those reports, claiming that nothing stated there was true and that to describe the situation in the camps in such a way was to insult him and his country.