Home
"BODIES ARE HERE"
A young man from Grabovica testified at the trial of Sefer Halilovic about the killing of five members of his family by BH Army troops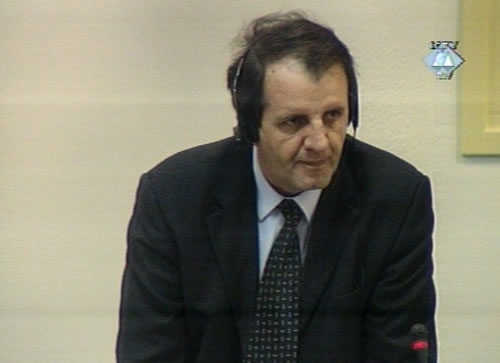 Sefer Halilovic in the courtroom
The first prosecution witness to testify at the trial of General Sefer Halilovic was a young man whose father, mother, four-year-old sister, grandmother and grandfather were killed in September 1993 in Grabovica by BH Army troops. Halilovic has been charged, as the commander of the Neretva '93 operation, with a failure to prevent and punish the murder of 33 civilians in Grabovica on 8 and 9 September 1993.
The witness, whose identity is protected, was ten at the time. He did not see how his family members were killed. That morning, he was at home with his brother when three BH Army soldiers came into their yard and asked his father to show them the cattle. When a burst of gunfire came from the direction of the barn where the father and grandfather had gone, the witness's mother thought there was no need to flee because "soldiers had come before and nothing had happened". The boy and his brother fled to the hill above the village nevertheless.
"There was a tremendous amount of gunfire in the village," the witness recalled. "When we went down to the village later, we saw our house. Our pink blanket was spread in front of the barn and there was something underneath it."
Later that day, they were found by two BH Army soldiers who took them home. "One of them, nicknamed Rambo, checked the yard and told us not to come close to the pink blanket because bodies were underneath. He went to the barn and then warned us that more bodies were in there," the witness recalled. His brother told him that their mother and sister were under the pink blanket.
BH Army troops put them up in a house in the village that night and gave them dinner. "We told them what had happened and they replied that the Ustashas had done that," the witness said. That evening and the following day they were questioned by a soldier wearing civilian clothes whose nickname was Celo, who asked them whether they could recognise the soldiers that had killed their family, but the boys did not dare to look at the soldiers around them. It was stated in the prosecution opening statement that Ramiz Delalic a/k/a Celo had been the deputy commander of the infamous BH Army 9th Motorised Brigade and that he had been "very close" to the accused Halilovic.
The boys were held for 12 days in Donja Jablanica and were then handed over to their uncle in the town. Before that, the boys were taken to their village again, but the bodies of the five members of their family were no longer in front of or inside the barn. In March 1994, they went from Jablanica to Mostar in an exchange of population. Later that year the witness identified the bodies of his father and grandfather in a morgue in Split. The bodies of his mother, sister and grandmother were never found.