Home
HALILOVIC TO REMAIN IN DETENTION AND IN THE DOCK DURING TRIAL
On the eve of Sefer Halilovic's trial, ICTY President rejected the motion by Halilovic to allow him to stay in a "safe house or apartment" during trial rather than in the UN Detention Unit. Another motion – to allow Halilovic not to sit in the dock but at the same bench as his defense counsel – has also been rejected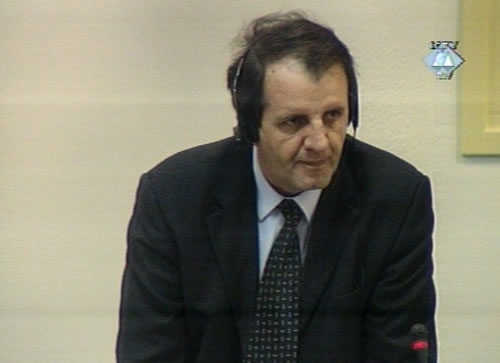 Sefer Halilovic in the courtroom
In the course of his trial, set to begin on Monday 31 January, Sefer Halilovic will remain in the UN Detention Unit, rather than in a "safe house or apartment" as demanded by his defense counsel. The ICTY president rejected their motion on the grounds that the detention during trial is a rule that has not been deviated from in the ten years of proceedings before the International Criminal Tribunal for the former Yugoslavia.
In the course of the presentation of evidence, Halilovic will have to sit in the dock, and not behind the defense bench – as his defense team requested on Monday, at the first pre-trial conference. Defense counsel supported this unusual request by the fact that they "are not military experts" and that the "expert advice the accused might provide during witness examination would be valuable" to them.
The pre-trial judge dismissed the motion at the second pre-trial conference today, noting that Halilovic would be able to communicate with his defense counsel from the dock, just as the other accused do.
The prosecution opening statement on Monday will take about two and a half hours, as announced, and the first prosecution witnesses should appear before the court on Tuesday, 1 February. The presiding judge of the Trial Chamber will be Chinese judge Liu Daqun, and the Chamber will also include Egyptian judge Amin El Mahdi and Gyorgy Szenasi from Hungary.
Former Chief of Staff of the BH Army has been charged with the murder of over 60 Croat civilians in the villages of Grabovica and Uzdol in September 1993. At that time, Halilovic was the Chief of Staff and the head of the BH Army inspection team in the "Neretva 98" operation. In this capacity, the prosecution alleges, it was his duty to prevent or punish the crimes committed by his subordinate soldiers. The indictment contains a single count charging Halilovic on the basis of his command responsibility with violations of laws and customs of war.