Home
SAVO TODOVIC POSTPONES ENTERING HIS PLEA
Former deputy warden of the Foca penitentiary and correctional facility exercised his right to enter his plea within 30 days. He is charged with crimes against detained Bosniak and Croatian civilians. Todovic does not want to discuss publicly "where he lived until his arrival in The Hague"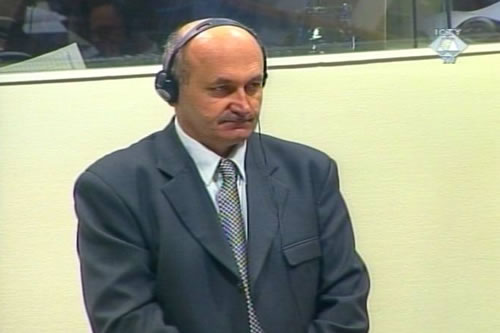 Savo Todovic in the courtroom
Former warden of the Foca KP Dom, Savo Todovic, was brought before a Tribunal judge today following his surrender to the Republika Srpska authorities that handed him over to the Hague Tribunal. When he introduced himself, he refused to say in public where he had lived before his surrender. "I would prefer to discuss this in closed session," Todovic replied to judge Carmel Agius, who then ordered the court to go into private session for a short time.
Todovic, who was represented at the hearing today by Belgrade lawyer Slobodan Zecevic, exercised his right to postpone entering his plea on the indictment by thirty days. As the accused waived his right to have the entire indictment read to him, Judge Agius went through the 18 counts charging Todovic with persecutions on political, racial and religious grounds, unlawful detention of civilians, murder, torture, cruel treatment, inhumane acts, inflicting grievous bodily and mental harm, enslavement and other crimes committed in the Foca KP Dom in 1992 and 1993, as alleged in the indictment.
Regardless of how he will plea, Todovic's stay in The Hague might be relatively short. If he pleads guilty, he will be sentenced and then transferred from the UN Detention Unit to a prison in one of UN member-states to serve his sentence. If he pleads not guilty in 30 days, Todovic will most probably be tried in Bosnia and Herzegovina together with Mitar Rasevic, former guards commander in the KP Dom. ICTY president appointed a chamber late last year that will rule on the prosecutor's application to defer the case to domestic courts. The tow were part of the same indictment as the former warden of the Foca KP Dom, Milorad Krnojelac, who has been sentenced to 15 years in prison, following the trial and the appeal.