Home
ANOTHER HAGUE CASE TO BE DEFERRED TO SARAJEVO COURT
A request for the deferral of Mitar Rasevic's case to the Bosnia and Herzegovina courts has been filed. Rasevic is charged with crimes in the Foca Correctional and Penitentiary Facility. There are currently five cases waiting for a decision on deferral to courts in BH, Croatia and Serbia-Montenegro.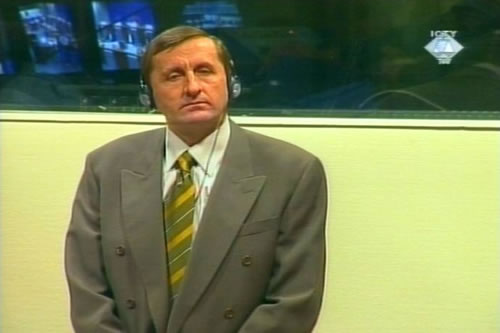 Mitar Rasevic in the courtroom
The Office of the Prosecutor of the Hague Tribunal has filed an application for the deferral of the case of Mitar Rasevic to the courts in Bosnia and Herzegovina. He is charged with crimes against detainees in the Foca Correctional and Penitentiary Facility in 1992 and 1993. This was announced at today's status conference in the case against the former guards' commander in the Foca KPD. Two days earlier, the same application was filed in the case of Savo Todovic, former deputy warden of the Foca KPD. ICTY President Theodor Meron has already appointed a Trial Chamber to rule on such applications.
If Rasovic gets to be tried before the Tribunal, the OTP plans to call about 50 witnesses; only 15 or so would testify live, while the others would file their depositions and be questioned in court only by defense lawyers. These are mostly former detainees who already testified at the trial of Milorad Krnojelac, who was the warden of Foca KPD at the time. He was sentenced to 15 years in prison. The prosecution estimates that it could rest its case after only three to four weeks.
The Rasevic and Todovic case is the fifth that the OTP wants to see deferred to domestic courts. The case of Rahim Ademi and Mirko Norac, Croatian generals charged with crimes in the Medak pocket, should be deferred to Croatian courts. In addition to Rasevic and Todovic, the cases of four people accused of crimes committed in the Prijedor camps (headed by Zeljko Mejakic, the commander of the guards in Omarska) are also waiting for a decision on deferral, as is the case of Radovan Stankovic, accused of rape in Foca. Finally, the case of Vladimir Kovacevic (nicknamed Rambo), the former JNA captain charged with shelling Dubrovnik, should be deferred to the Serbia-Montenegro courts.