Home
BORDER ON THE UNA RIVER
At the trial of former SDS leader Momcilo Krajisnik, a protected witness from Bosanska Krupa testifies about the April 1992 Serb takeover of the town--"coordinated by the SDS"--and the announcements made by the Serb side that it would maintain the territory it had taken and that it wanted the border on the Una River.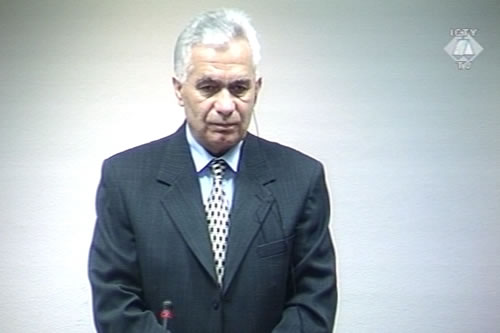 Momcilo Krajisnik in the courtroom
According to an advance plan, the SDS party and the military forces it controlled and coordinated took over power in Bosanska Krupa in April 1992 and expelled the Bosniaks, a witness from Bosanska Krupa testified today at the trial of former high-ranking SDS official Momcilo Krajisnik. The witness' identity was protected.
The witness stated that as early as 1991, municipal SDS leaders were already preparing the takeover of the town and the activities of Serb paramilitary forces stationed around Bosanska Krupa. According to information the witness received from Gojko Klickovic, a local SDS leader, the SDS had 5,000 armed men under its control before the military attack.
SDS representatives proposed to the Bosniaks several times dividing the municipality because they "wanted to have a pure Serb territory," the witness said. Since there was no deal, preparations for the attack began. According to the witness, "On 21 April 1992, the Serb population was evacuated; Ninkovic, a JNA officer, also left town. Then the shells started coming in from all directions." Local Bosniaks fought back for four days; once the fighting was over, the Bosniaks lost the town, the witness testified, adding, "Twelve civilians were killed in the first onslaught; the Bosniak population fled or was expelled from the right bank of the Una River and some were taken to detention centers."
The witness testified that in talks held after the takeover of the town, the Serb side announced it did not intend to return the territory it had taken and that it wanted the border to be on the Una River. The establishment of the border on that river was one of the "strategic goals" the Bosnian Serb assembly, with Krajisnik as its speaker, would later proclaim formally.
Bosniaks did not return to Bosanska Krupa until 1995, when the BH Army took over the town.
Momcilo Krajisnik's defense tried to point out that the SDS' actions might have been provoked by the behavior of the Bosniak side. Defense counsel Chrissa Loukas noted that the "paramilitary Patriotic League" had been established in the Bosanska Krupa area and that Serbs had been fired from their jobs. The witness, however, did not agree with those statements. When the defense stated that at an SDS rally in Velika Kladusa in 1990, Alija Izetbegovic announced that "the Muslims would defend Bosnia and Herzegovina, with arms if need be," the witness replied that he could not recall such details.