Home
A SECRET OPERATION, CONCEIVED BY A SICK MIND
This is how Dragan Jokic's defense counsel described the massacre in Srebrenica. The former chief of engineers in the VRS Zvornik Brigade is charged with crimes there. The defense claims it will prove the engineer chief could not have issued orders to an engineer company involved in digging and tampering with mass graves in the Srebrenica region.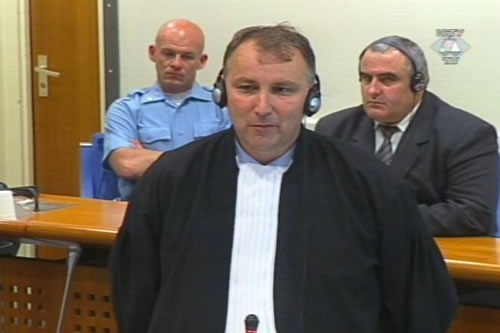 Miodrag Stojanovic, defense attorney for Dragan Jokic
Miodrag Stojanovic presented his opening statement today in defense of Dragan Jokic, former chief of engineers of the VRS Zvornik Brigade, charged with crimes committed in Srebrenica in July 1995.
According to the allegations in the indictment and the testimony of prosecution witnesses, Zvornik Brigade engineers played an important role in digging and tampering with the mass graves where more than 7,000 men killed in Srebrenica were buried.
In his opening statement, Dragan Jokic's defense counsel spoke about the situation in the Zvornik Brigade's area of responsibility in July 1995: they were fighting a column of troops belonging to the BH Army 28th Division, which was attempting to break out of the enclave, and heavy losses were sustained by VRS units in some of the battles fought there.
Parallel to these "legal and legitimate combat operations," Stojanovic said, there was a "secret operation, conceived by someone's sick mind, to take all the prisoners to execution sites and kill them there, instead of exchanging them." Stojanovic added, "VRS security officers no doubt took part in this secret operation; they were in charge of the activities."
Stojanovic announced the defense will prove that Dragan Jokic did not in any way participate either in this "secret operation" or in a joint criminal enterprise to kill thousands of prisoners and remove any evidence of the crime, as it is alleged in the indictment.
As a "staff officer with limited powers," his defense counsel claims, Dragan Jokic "could not have commanded an engineer company in the course of an operation to bury the men that had been killed." Stojanovic says the defense will prove that he "did not have command and control over the engineer company, which had its own commander and his deputy," because the only role of the engineer chief was to "advise the brigade commander about the proper use of engineer units."
Dragan Jokic's defense counsel believes this will "become quite evident after the presentation of the defense evidence."