Home
KRAJISNIK NOT ALLOWED TO QUESTION PROSECUTION WITNESS
Judges dismiss Momcilo Krajisnik's demand to question a prosecution witness; in their opinion, it would be contrary to current practice. Furthermore, "in the case of this witness, the accused failed to present persuasive arguments in favor of changing the practice."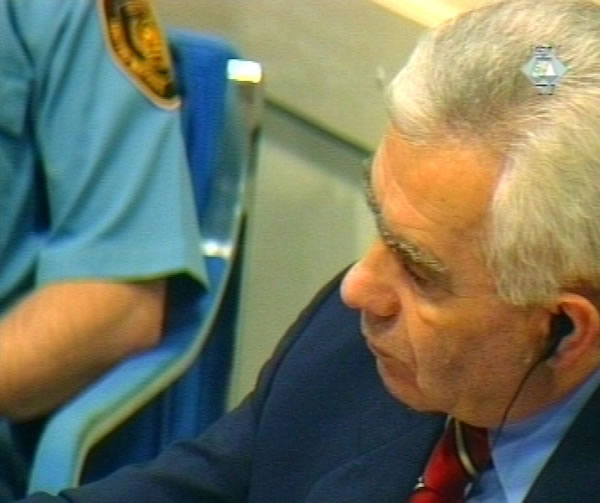 Momcilo Krajisnik in the courtroom
Judges today dismissed Momcilo Krajisnik's demand to ask a few questions of a protected prosecution witness testifying this week in closed session.
"There may be exceptional circumstances [in which the accused may be granted the right to pose questions to a witness], but in the case of this witness, the accused has failed to present persuasive arguments in favor of our changing the practice," Judge Alphons Orie said.
Krajisnik asked yesterday to be allowed to pose some questions after his defense counsel completed his cross-examination of the witness he described as "an important" one and as a person he "knew very well." Krajisnik is not sure his lawyers were able to prepare properly for the cross-examination. "I want to assist to let the witness tell the truth," Krajisnik added.
His defense counsel, however, did not support his demand, noting that it would be prejudicial both to the conduct of the proceedings and to the accused himself. "The client may feel at any time that the defense counsel has not grasped everything…, but the defense counsel conducts the case with the instructions of his client." Allowing the accused to question a witness "would set a precedent which would then become a norm," Stewart warned. He added that the judges should disregard the case of Slobodan Milosevic, who questioned witnesses while defending himself.
Although the judges did allow that in "certain exceptional circumstances" the accused might examine witnesses, they agreed with Stewart that this bore certain risks. "This might cause confusion among the judges as to which arguments are put forward by the defense, and the lack of experience on the part of the accused in the process of examination of witnesses might also disrupt the strategy and tactics of the defense counsel," Judge Orie concluded.
After that, the proceedings continued in closed session again, allowing Stewart to continue cross-examining the "very important" witness whom Krajisnik "knows very well."