Home
CHINESE JUDGE CAUTIONS AMERICAN LAWYERS
On the eve of the testimony of Dutch officer Ton Karremans, commander of the Dutch "blue helmets" in Srebrenica in 1995, the Trial Chamber cautions both the prosecution and the defense to abide by the rules of proper conduct in Tribunal courtrooms.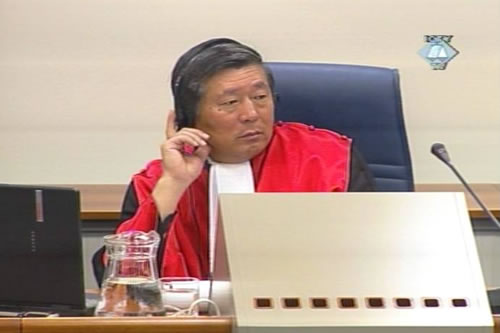 Liu Daqun, judge in the Tribunal
Chinese Judge Liu Daquin, presiding over the Tribunal's second Srebrenica massacre trial, cautioned representatives of both the prosecution and defense that if they continue with their improper conduct in the courtroom, the Chamber will have to take "certain measures."
The direct cause for the judge's intervention was the latest in a series of acrimonious debates between two American lawyers: prosecutor Peter McCloskey and defense counsel Michael Karnavas, who represents Vidoje Blagojevic, the first accused. The pair is not even trying to hide its mutual animosity.
In the re-direct of Nikola Popovic, a defense witness who used to be a military policeman in the VRS Bratunac Brigade, Karnavas suggested that the prosecution was biased in its investigation of the crime in Srebrenica and that it was trying to "conduct its investigation in the course of the trial itself." Prosecutor McCloskey responded by telling defense lawyers that "if they wanted to, they could question the prosecution about its investigation," but not in front of a witness.
Judge Daquin intervened, putting a halt to the debate until the witness was led out of the courtroom, and then addressed both the defense and the prosecution, referring to the continued tendency of both parties to get bogged down in academic discussions about the character of the conflict in the former Yugoslavia which were outside the scope of the present case.
"This is a tribunal – and international court – not a truth and reconciliation commission. The massacre in Srebrenica is a very important topic, and historians – not this tribunal – should provide answers to many of the questions," said Judge Daquin, reminding the parties that the "mandate of the Tribunal is limited in this respect."
"It is the purpose of this tribunal to determine whether the accused is guilty or not guilty in respect of a specific incident," the judge said, expressing his hope that in the future, "questions asked of witnesses will not go out of this framework." He reminded the parties that they must show respect to the witness and to the "other side."
"The Chamber is not happy with the conduct of the parties so far," the judge noted, expressing his hope that during tomorrow's examination of the scheduled witness, they will "bear this caution in mind" and act in accordance with the rules of courtroom conduct. If not, the Chinese judge said, "the Chamber will be forced to take certain measures."
The defense witness to be heard tomorrow should be Colonel Ton Karremans, commander of the UN Dutch Battalion in Srebrenica in 1995.