Home
UNLIMITED NUMBER OF WITNESSES, BUT IN LIMITED TIME
At Slobodan Milosevic's pre-defense conference, judges refrain from limiting the number of witnesses the accused can call, but insist that his case is limited to 150 working days.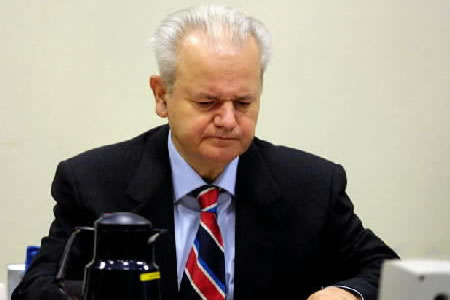 Slobodan Milosevic in the courtroom
A Trial Chamber confirmed today that Slobodan Milosevic's defense case will begin on 5 July and will last 150 working days, dismissing the accused's demands to extend the time for the preparation and presentation of his case.
The Chamber will not, however, limit the number of witnesses Milosevic can call during his case. The judges will instead – in accordance with the Rules of Procedure and Evidence – make sure that the testimony of proposed witnesses is relevant to the case and not cumulative, i.e., repetitive.
As he delivered the decision, Presiding Judge Robinson gave an example of witnesses whose relevance would have to be judged by the Chamber before being called to The Hague: "A substantial category of proposed witnesses who are to testify about their detention."
It is up to Milosevic to then make a selection and decide who to call out of the 1,631 witnesses he has put forward to testify in his defense. Milosevic will also have to decide the order in which he will present his evidence – from one indictment to another – to prevent sudden jumps from Kosovo to Croatia or Bosnia and Herzegovina.
The morning session at today's pre-defense conference was devoted mostly to a prosecution motion seeking that the accused be compelled to provide more detailed summaries of his witnesses' testimony. Judging that this was "an important legal issue" since the accused "has the right to remain silent" and "not to disclose the theory behind his case," Judge Robinson called upon the parties to state their views.
Milosevic said he was not obliged to provide more detail and saw no reason to do it, especially as it would take too much time. He was supported by amicus curiae Steven Kay, who stated that "it would be too much to expect this from the defense," and that in Milosevic's case, it would suffice to provide "indications about the issues" witnesses would be speaking about. Finally, prosecutor Geoffrey Nice claimed that summaries were necessary not so the theory behind the defense case would be disclosed, but so judges might have enough information to run the trial efficiently. As Nice asked, how can the Chamber prevent cumulative testimony if it only finds out when a witness arrives in The Hague that he is to testify about something that has already been dealt with?