Home
MILOSEVIC'S RETURN TO COURTROOM POSTPONED AGAIN
Due to the accused's bad health, Slobodan Milosevic's defense case will begin on 5 July instead of 22 June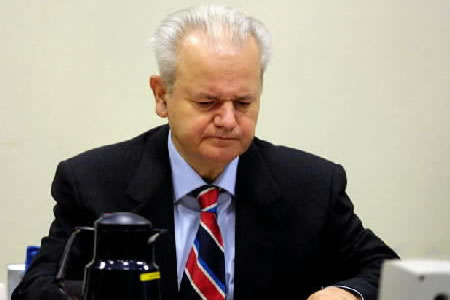 Slobodan Milosevic in the courtroom
Slobodan Milosevic's defense case, set to begin first on 8 June and then postponed until 22 June, has been postponed again for another two weeks. According to a Trial Chamber order made public today, Milosevic will begin presenting his defense on Monday, 5 July at 9 a. m. There should be 12 days of hearings until the end of the month, which is when the Tribunal's three-week summer recess begins.
According to the press release, the continued ill health of the accused has resulted in yet another postponement of the beginning of Milosevic's defense case. The treating cardiologist recommended that the accused rest for a period, after which he may resume preparing his defense, but initially only for three days per week.
Before the official start of his case, Milosevic is due to appear in court on 17 June at the usual pre-defense conference, when judges are expected to rule on the number of witnesses the accused will be entitled to call in the 150 days allotted to him for the presentation of his case. This is pursuant to a Trial Chamber decision issued in February.