Home
"CLOSE COOPERATION" BETWEEN THE ARMY AND MUJAHEDIN
Having seen the defense exhibits, General Reinhardt changes his original views and concludes that General Hadzihasanovic took substantial steps to discipline the perpetrators of crimes from the ranks of the BH Army. The prosecution military expert, however, believes that the 3rd Corps "had ways to discipline a hundred or so mujahedin" with whom the BH Army, in his view, had been "cooperating closely."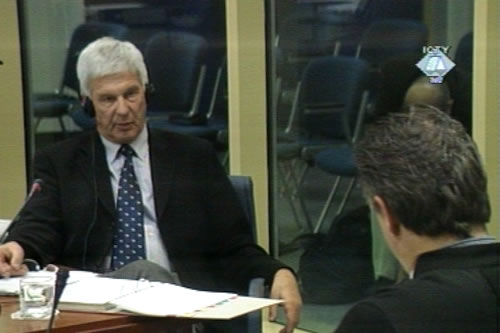 Klaus Reinhardt, witness at the Hadzihasanovic and Kubura trial
At the end of his five-day testimony at the trial of the BH Army commanders accused of crimes in Central Bosnia in 1993, German Army General Klaus Reinhardt changed his original views of General Enver Hadzihasanovic and concluded that he took substantial steps to discipline his subordinates who committed crimes.
As a prosecution expert, Reinhardt originally stated that the former BH Army 3rd Corps commander issued orders condemning the crimes but had not gone far enough in his efforts to punish them. However, after the defense showed him a series of Hadzihasanovic' orders, the general said he changed his view because he "saw so much additional evidence to the effect that Hadzihasanovic had not only issued orders, but had made sure that the perpetrators be treated in accordance with the law."
However, the retired German Army and NATO general, who was the commander of KFOR in Kosovo and commanded the German contingents in Bosnia, added that there was another thing "which still presented a problem" to him. Answering questions put to him by judges, he admitted that he still was unable to define the way in which the mujahedin were incorporated into the military structure of the 7th Muslim Brigade and the 3rd Corps.
"I think that the evidence shows that the cooperation [between the BH Army and the mujahedin] was quite close," said the general, adding that a commander who involves foreign fighters in his military actions assumes responsibility for their acts. In the view of the witness, the 3rd Corps had ways to curb a hundred or so mujahedin, although he admits that it might have been difficult.