Home
IVAN CERMAK AND MLADEN MARKAC: "NOT GUILTY, YOUR HONOR"
Croatian generals accused of crimes committed in the course of and after Operation Storm pled not guilty today to all counts of the indictment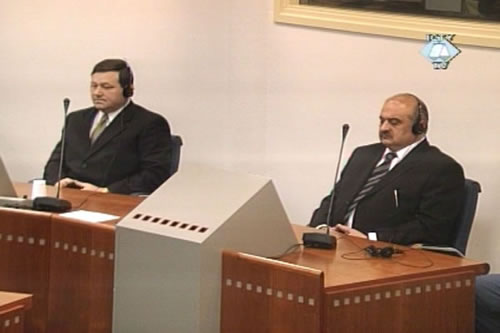 Ivan Cermak i Mladen Markac in the courtroom
At their initial appearance before a judge of the International Tribunal, generals Ivan Cermak and Mladen Markac pled not guilty today to all counts of the indictment. in which they are charged with crimes committed in the course of and after Operation Storm.
Retired Croatian generals waived their right to have the indictment read out to them, stating that they had studied it and understood it well. The prosecutor charges them with individual and command responsibility for the persecution of Serbs in the territory of 11 municipalities of southern Krajina in the period between 4 August and 15 November 1995.
Cermak and Markac surrendered to the Tribunal yesterday, three days after their indictments were unsealed. In the period relevant for the indictment, Cermak was the commander of the Knin Garrison, and Markac was the commander of the Special Police of the Croatian Ministry of the Interior. The prosecutor charges them with participation in a "joint criminal enterprise the common purpose of which was the forcible and permanent removal of the Serb population" from that region in Croatia. The crime of deportation was perpetrated, as the indictment alleges, through systematic plunder and destruction of Serb property, murder and inhumane acts the purpose of which was to "discourage and prevent the Serb population that had already fled the area either immediately before or during Operation Storm".
At the hearing today, which was attended by the chief prosecutor Carla Del Ponte herself, Cermak's defense counsel, Cedo Prodanovic, and Markac's defense counsel, Goran Mikulicic, stated that they were about to file a motion for provisional release of their clients. Until a ruling is made by the Trial Chamber, presided by the Maltese judge, Carmel Agius, the accused will remain in the UN Detention Unit. The accused stated today that they did not have any objections to the way they had been received and the accommodation in the Detention Unit and that the personnel, as Cermak said, was "more than kind".