Home
DID THE PEOPLE OF DUBROVNIK SHELL THEMSELVES?
General Strugar's defense claims that Dubrovnik's defenders shelled themselves--and the Old Town--by accident, because the sights on their weapons were out of order. Ivan Negodic, former commander of the Dubrovnik artillery, categorically denies that possibility.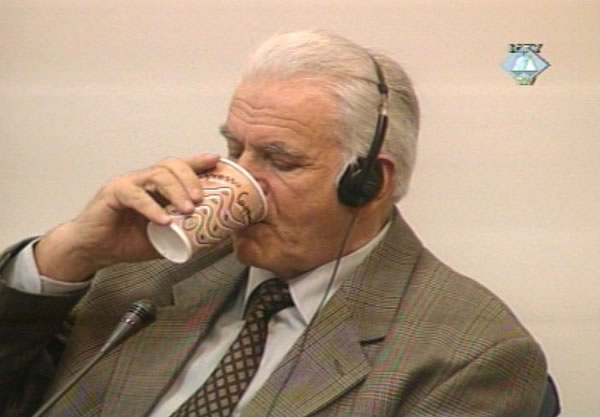 Pavle Strugar in the courtroom
During the cross-examination of Ivan Negodic--commander of the Dubrovnik artillery in late 1991--the defense counsel for General Pavle Strugar--commander of the JNA Dubrovnik operation at the time--claimed that the forces holding the city under siege were targeted from the Old Town, not only with infantry weapons, but also with artillery. The defense also claimed the Croatian forces had more heavy weapons than Negodic stated during his examination-in-chief, and that because the sights on some cannon and mortars had malfunctioned, some of the rounds fired by Dubrovnik's defenders on JNA positions hit Dubrovnik and the Old Town instead.
Negodic categorically denied such allegations, particularly the claim that the defenders of Dubrovnik shelled themselves by accident.
In the course of the cross-examination, Negodic corrected the statement he gave to investigators from The Hague last December. In it, he stated that Yugoslav Navy ships had also taken part in the bombardment of the Old Town on 6 December 1991. Apologizing for his mistake, Negodic stated today that on that day, Yugoslav Navy ships "had been in the Zupa cove but had not opened fire on the city."
In order to prove that Croatian forces used hotels in Dubrovnik to billet their units, the defense produced a request from the Civilian Protection Headquarters (submitted to Dubrovnik Defense Headquarters on 17 November 1991) to vacate "at least one of the hotels" so that 1,500 refugees could be housed there. Negodic confirmed the authenticity of the documents and listed two or three hotels where there were some soldiers--or where meals for the troops were prepared--but denied that all hotels in Dubrovnik were used to billet the armed forces. He maintained there had been no weapons and no troops in the Old Town to justify the shelling of a city protected by UNESCO.
After Ivan Negodic, the prosecution called former Croatian minister Davorin Rudolf. At the time of the Dubrovnik operation, he negotiated with the JNA in Cavtat on behalf of the Croatian government. His testimony will continue tomorrow.