Home
TRIAL OF RADOSLAV BRDJANIN ENDS
Radoslav Brdjanin's defence requests the accused be acquitted on all counts, arguing his Crisis Staff in the Autonomous Region of Krajina was "clownish" in character and "ignored" by other government bodies. A verdict is expected at the end of August 2004.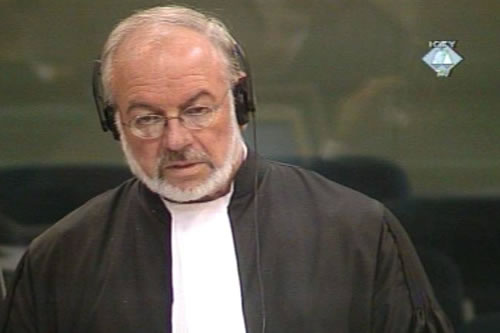 John Ackerman, defence layer of Radoslav Brdjanin
The defence of Radoslav Brdjanin requested today that the accused be acquitted on all counts of the indictment. He is charged with genocide and other crimes committed against the non-Serb population of Bosnian Krajina.
In his closing argument, defence attorney John Ackerman said that the prosecution "followed a wrong trail" and "made a house of cards" when it accused the former chief of the Crisis Staff of the Autonomous Region of Krajina (ARK) of persecuting Bosniaks and Croats. The defence claims that Brdjanin and the body he chaired did not have any real authority in Krajina, nor could they give orders to the municipalities, the military or the police.
Ackerman said the ARK Crisis Staff was "clownish" in character, expressing "support to itself" in its own statements, while in reality it was "ignored" by other government bodies.
The defence rejected the indictment's allegations that Brdjanin, as "a prominent member of the SDS /Serb Democratic Party/, was one of the leading figures in "a joint criminal enterprise" aimed at driving Bosniaks and Croats out of northwestern Bosnia in 1992.
"There may have been one or more joint criminal enterprises – we think there were more – in municipalities, but the accused did not participate in any of them. There was no such enterprise at the ARK level," Ackerman claimed.
The prosecution particularly emphasised Brdjanin's "leading role in propaganda" against non-Serbs, especially his "war-mongering" speeches that, according to the prosecutor, led to crimes and showed Brdjanin's "genocidal intent." The defence, however, believes the speeches were "misinterpreted" in court and that it was not proven they "had an effect" which led to criminal responsibility.
The trial of Brdjanin ended with closing arguments by both sides. Judge Carmel Agius announced a verdict will be handed down at the end of August.
Photos